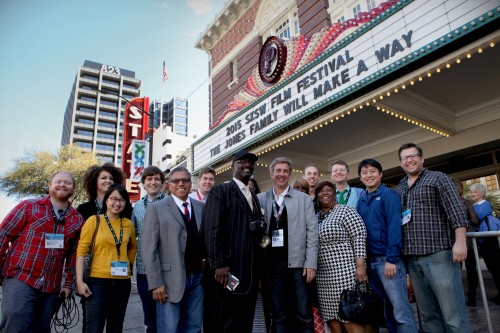 AUSTIN, TX (March 20, 2015) — Texas gospel sensation, The Jones Family Singers, moved SXSW audiences with their story of faith and perseverance.  The film, called THE JONES FAMILY WILL MAKE A WAY, highlights the 30-year-old group's traditional Gospel roots and chronicles their efforts to share their message with a broad audience without compromising their values, premiered Wednesday as part of SXSW's 24 Beats Per Second music documentary section.  Director Alan Berg, his production team from Arts+Labor and the Jones Family were there for the emotional event.
Alan offered, "Twenty years ago my pastor said we need to stop rubbing against each other like so many shards of broken glass, intent only on seeing how much blood we can draw, and instead look for ways in which we can lift each other up. This movie personifies that — people from far different backgrounds working together to fully realize their God-given talents."
The Jones Family consists in part of five sisters, two brothers and their father. Their story began in a little church in the tiny town of Markham, TX, where Bishop Fred Allen Jones, Sr. has been preaching for more than 30 years.  When the Bishop met a jaded rock critic named Michael Corcoran, neither of them could have anticipated how it would change each of their lives.  Over the years, Corcoran helped the group make musical connections they hadn't had before, saying, "They're on a mission to tell people about the Lord, and I'm on a mission to tell people about the Jones Family Singers."
The Bishop and the non-Christian Corcoran don't always see eye to eye about the band's message, with the critic sometimes pushing the group to dial-back on the preaching, but the band's message has always remained front and center, no matter the venue. "We're just church people doin' what we do," Bishop Jones says in the film.
The films next screening is being held on:
SATURDAY, MARCH 21, 2015 – 1:30PM  
Vimeo Theater
201 Trinity Street
Austin, TX 78701
For the complete schedule, click here