How many have ever tried fried kool-aid? Or how about fried cereal, or  maybe fried twinkies?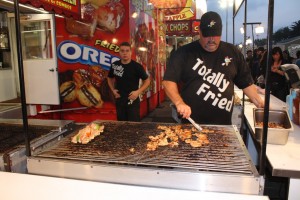 It's that time of year again, where county fair goers will shake their heads wondering, really? Is it possible to fry kool-aid?
Thousands are expected to travel from far and wide to experience the one-of-a-kind fair that offers exotic foods, games, rides, and even musical entertainment for individuals of all ages.
Starting June 8th, gates will open at the popular San Diego County Fair and add  yet another element of fun to San Diego's summer. This year  the fair will be open from June 8th-July 4 and, closed on Mondays except for July 2nd.  The theme for 2012, Out of this World, promises a new level of fun with its entertainment ranging from Demi Lovato to Cobra Starship to the eighth annual Gospel Night, featuring  three time Grammy-award winning artist Donnie McClurkin!
New additions to the fair are: the Food Truck Festival, the latest crave featuring gourmet foods served out of extravagantly designed  trucks, and its innaugaural San Diego County Fair Wine Festival with over 35 wineries represented.
The San Diego County Fair features events for people of all interests, and all San Diegans and tourists have to do is come and enjoy!
(858) 793-5555, sdfair.com.