Beverly Hills, CA – The 2nd Annual Griot Oscar Night Gala celebrating Diversity & Inclusion held at the District by Hannah An. Glitz, glamour and stars was the scene as more than six hundred invited guests convened to celebrate the extraordinary accomplishments of some of today's top entertainers, influencers and industry greats who represent in support of diversity and inclusion. Los Angeles-based AIDS Healthcare Foundation (AHF), a global nonprofit organization providing cutting-edge medicine, advocacy to over 1 million people in 43 countries and largest provider of HIV/AIDS medical care in the U.S, served as the charity partner onboard.
Famous faces to grace the event and it's purple carpet included Tiffany Haddish (Girls Trip), Craig DiFranca + Brian Distance (Green Book), Sheryl Lee Ralph (Dreamgirls), Loretta Devine (Grey's Anatomy), Shervin Roovenpur (Bravo's Shahs of Sunset), Chaz Dean (celebrity hair stylist), Vanessa Williams (Soul Food), Jayk Gavagher (VEEP), Billie Lee (Bravo's Vanderpump Rules), Angie Everhart (Supermodel), Brock O'Hurn (Boo! A Madea Halloween), Al B Sure (R&B Artist), Rolanda Watts (Rolanda), David Dobrovik (YouTubber), Miyavi (Unbroken), Cisco Reyes (All Eyez on Me), Camille James + Chantelle Albers (VICE), Kris D. Lofton (HBO Ballers), Mirai Nagasu (US Olympic Figure Skater Medalist), Renee Lawles (The Haves & Have Nots), The cast of Skin, Antonique Smith (Notorious), Porscha Coleman (TV personality), Dr. Chris Donaghue(Love Line), Steve Longi (Oscar-winning director), Kimberley Elise (Diary of a Mad Black Woman), Lunelle Campbell (comedian), and Mitchell Marchand (2019 Oscars writer).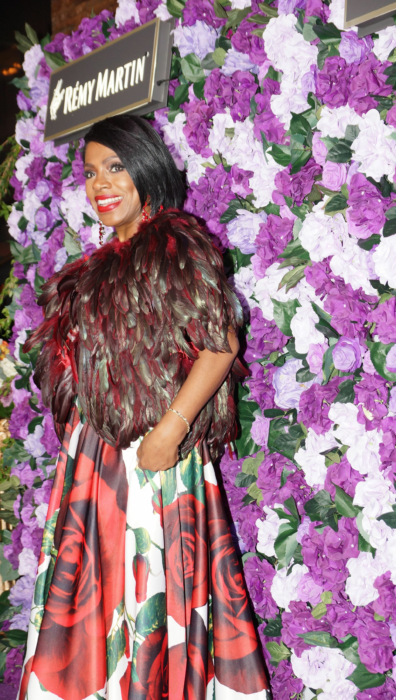 The event honored Tony Award-winning and acclaimed veteran of film and television, Sheryl Lee Ralph with The Trailblazer Award. "Sheryl Lee Ralph is a trailblazer in the worlds of entertainment and activism. She represents the foundation of what the Griot Gala stands for and to honor her was a dream come true for the organization," stated Miller.
The VIP Lounge featured "Opulence Revealed," a multi-sensory and interactive tasting experience for exclusive celebrities and industry members. Guests sampled Rémy Martin's XO sophisticated flavors paired with fragrant fruits such as grapes, pear, dried apricots, and figs; spices like cinnamon, dried saffron, and stem ginger; or earthy characters like walnuts, hazelnuts, cheese, and chocolates — where taste buds hung upon every note. Premium producer of non-toxic, essential oils, Young Living created an aromatherapy oasis of diffused oils that streamed throughout the air of the VIP lounge as well. Full body massage chairs further heightened the senses to promote relaxation for those trying to unwind from the excitement of the 91st Academy Awards. Opulence Lounge furnishings were provided by Vitality Furniture, committed to traditional and contemporary values that create quality relationships and classic environments.
Kush Boys, a leader in California's cannabis footprint, spotlighted a Kush Boys Lifestyle Lounge with curated cannabis treats by Cal Farms, Lucid Mood, Try Chemistry, Papa & Barkley, Mellow, Foria Wellness, Apple Dabs, Neptune Sticks and Main Express. While DJ/Model MAAD kept the dance floor hot, signature Remy Martin cocktails, 1738, Botanist Gin, Cointreau, Mount Gay Rum and Moreno champagne glasses overflowed. The District tray-passed modern Vietnamese fare of crab, candy walnut prawns, lobster & crab wontons, tuna poke on rice crisps, spring rolls, noodle station, chocolate mousse cake, pineapple bread pudding, mango cheesecake and assorted macaroons for guests to devour. Annette Bibby-Oliver of Dream House MGB and Dwight Eubanks (Real Housewives of Atlanta) spearheaded event production and design. No Oscars event would be complete without gift bags. Griot Gala Remy XO VIPs received Bella Spirit and Wen bath, body and hair products by Chaz Dean, Young Living essential oil kits, AHF, Blings by Marium, Feather Lite Aesthetics/Mari Abdulian medical spa certificates, Paragon Cleaners, and Mixed Chicks multi-racial, non-sticky, lightweight curly hair products totaling three-thousand dollars.
About the Griot Gala: Co-founded by Dionne Miller & Reid Johnson with the intension of celebrating diversity and inclusion while recognizing outstanding achievement in the Arts and Entertainment Industry. The Griot honors women and people of color who exude a Spirit of Excellent and who are trailblazers in the Arts and Entertainment Industry. The Griot recognizes the need for diversity, inclusion, and equality for ALL people regardless of race, gender or sexual orientation. We are GRIOT.
To learn more visit them at www.thegriotgateway.com.