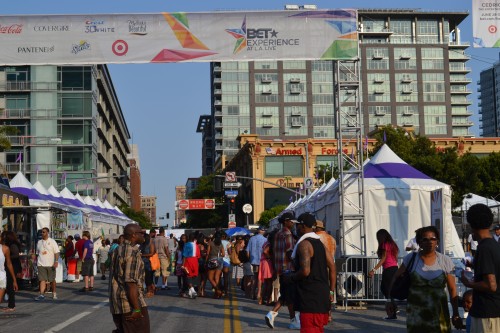 The Chocolate Voice was on the scene soaking up the smoldering hot sun enjoying what promises to be one of the hottest, cultural music festival events of the summer.
Serving as the pre-show weekend right before the annual 2013 BET Award show, over 100k  gathered at L.A,'s Nokia Live to attend concerts, celebrity panels, film screenings or any of the events tied to the festival.
Comparable to the Essence Music Festiva, which is in it's 19th year, and draws record crowds in the neighborhood of 413k, the BET Experience differs in that organizers expanded its demographics to include a fan base with more versatility to include: Hip-Hop, Neo-Soul and R&B.
The versatile pool of talent included in the inaugural event, showcased the industries biggest names: Rap artists Snoop (Dogg) Lion and Kendrick Lamar,  Neo Soul artist Erykah Badu and Raheem DeVaughn and, R&B Artist R. Kelly and maga star headliner, Beyoncé and more…
Check out a few highlights from the BET Experience at L.A. Live.