Let's just get this out of the way: It's about time the Marvel Comics world added more people of color superheroes. Wouldn't you agree?
Now that Netflix has one of the highest rated original series hence; The acclaimed Marvel's Luke Cage, the powers that be in the entertainment world appears to have taken notice and can see that diversity and inclusion does wonders for the universe.
Take superhero Black Panther aka T'Challa, who made his first appearance in Fantastic Four #52 in 1966, fans are super excited about lead character Chadwick Boseman, who is definitely making a name for himself as he had three big movies out in 2016 (Gods of Egypt, Captain America: Civil War and Message From The King) and one big movie coming out this year (Marshall), which might bring him the kind of recognition Idris Alba has been getting as one of the most profitable actors of 2017.
The CW has just released a first-look image of Cress Williams (Hart of Dixie and Friday Night Lights) suited up as the Arrowverse's newest superhero, Black Lightning. As one of the first major African-American heroes in DC to get his own comic book title, Black Lightning. Created back in 1977 by Tony Isabella and Trevor Von Eeden, the hero, real name Jefferson Pierce, with the use of a belt can create force fields and throw electric bolts. The pilot is being filmed in Atlanta, GA.  Fingers crossed that the series gets picked up.
In the upcoming series, Black Lightning has long since retired. But, to save his daughters, he'll have to put on the suit again.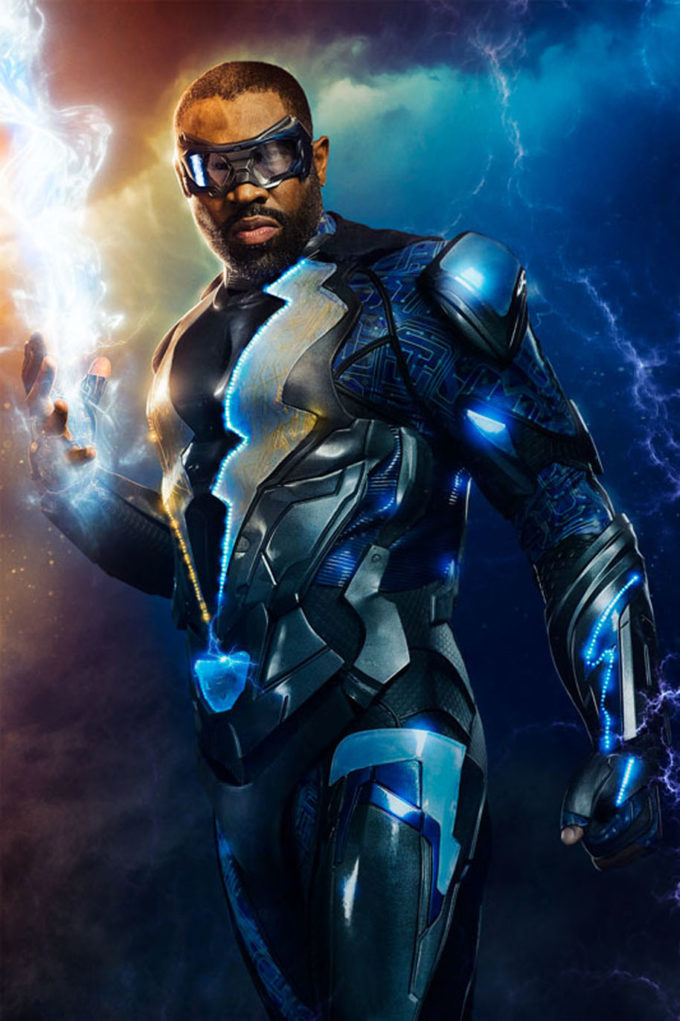 Read the official synopsis below:
Jefferson Pierce made his choice: he hung up the suit and his secret identity years ago, but with one daughter hell-bent on justice and the other a star student being recruited by a local gang, he'll be pulled back into the fight as the wanted vigilante and DC legend — Black Lightning.
The upgraded costume — which looks surprisingly close to the superhero duds the character wears in the pages of the comics — was designed by Laura Jean Shannon. She also worked
on the upcoming Jumanji sequel with Dwayne Johnson, The Jungle Book, Scott Pilgrim vs. The World, Blade: Trinity, and Iron Man.
Currently filming in Atlanta, Black Lightning is penned by Salim Akil and Mara Brock Akil, who'll serve as executive producers on the superhero TV series alongside Greg Berlanti. Here's what Salim Akil (who wrote and is helming the pilot) said in an official statement:
"I knew way too much about the world as a young boy growing up in Richmond, California. I was no stranger to violence, death, hopelessness or the feeling that no one cared about what was happening in my life. Comics were a great way for me to escape. I was about 13 when Black Lightning was created, and finally there was a Black Super Hero that gave a damn about our neighborhood and our lives. Resurrecting him at a time in our society when a sense of hope is lacking… Black Lightning will be that hope. And in updating the suit, it will signal to a new generation that it's time to harness and release our power, and become our own Super Heroes."
Black Lightning is being produced by Greg Berlanti (Arrow, The Flash) and, the creator's of Being Mary Jane and The Game, husband and wife team Mara Brock Akil and her husband Salim Akil.