(1) I'd like to start day two off with saying that, I'm grateful to Lynette Jones of When Style Matters who nominated me to take the gratitude challenge. This opportunity has allowed me to take time and reflect on the many things that I have to be grateful for.
(2) On raising a son: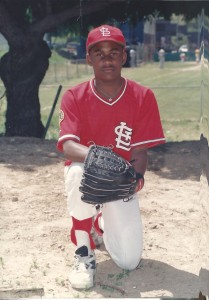 I always knew that I wanted to be a mother. So, when Ronnie came to live with us at around age 5, being a mother just came natural. In the beginning, I struggled with my insecurities on how to discipline. I didn't want to be perceived as the "wicked" stepmother.
I learned through raising Ronnie that kids who are brought up in loving and supportive environments, learn to appreciate and respect authority. He also taught me how to be selfless. In between my work, his schoolwork, baseball and soccer games, there was hardly anytime left for me time, which was something that I learned didn't matter as long as he was happy and fulfilled.
(3) On raising a daughter:
When my daughter Shanda was born, having raised Ronnie for four years prior to her arrival, I was pretty experienced with "motherhood."
At least that's what I thought. As most parents would agree, parenting is a lifelong experience. Like most everything, there are ups and downs.
As it turns out, my daughter and I have very different personalities; she's diva like and I'm quite the opposite. All the same, we get along very well. One day when she was around 9 years old, I was driving her to theatre rehearsal, when she says to me, "Mom, what else do you like to do besides driving me and Ronnie around all of the time?" Thrown off guard by her challenging question (one of many), I really didn't have an answer.
Now that I reflect on that moment, I realize how wise she was at a very young age. She was trying to tell me that as a mother, I needed to take time for myself. I like to say, she taught me how to "act like a diva and think like a mom."
Both kids taught me valuable lessons in how to live selflessly and selfishly. Being a mother to two very different children is something that I'm very grateful for.