By: G. Napier Barnes, III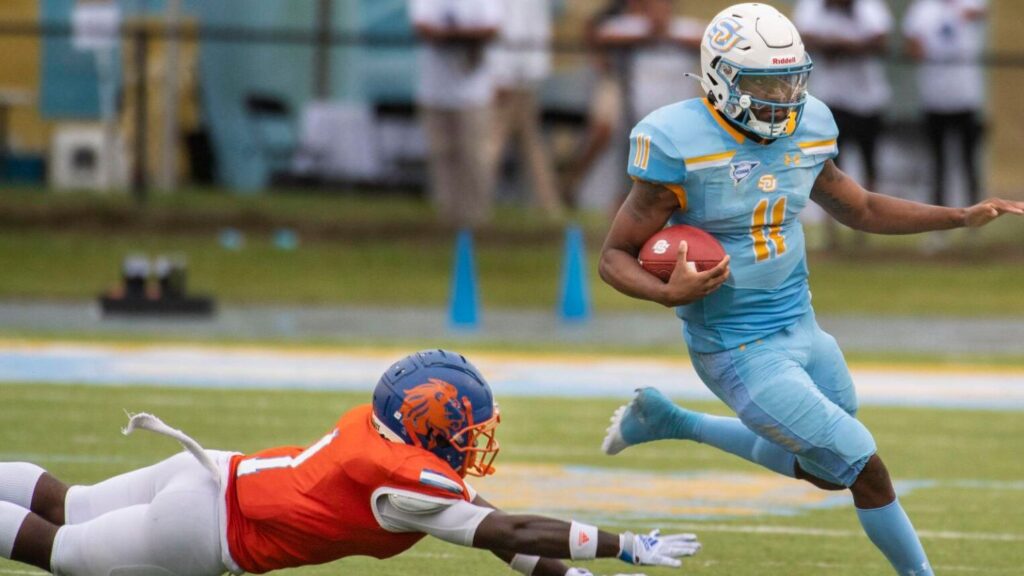 A good friend of mine once said to me, "Barnes, we (as Black people) roll a little bit differently than everyone else. There is nothing wrong with it, we just ROLL differently." I guess that is a true statement. We do roll differently, especially when it comes to our sports. Take football for instance. To almost everyone football is just a game. To us, especially on an HBCU Campus, football is an event, more than just a game. It's a combination fashion show, cook-out, mini-concert and mega step show. It's like going to a party and a football game breaks out.
There are three types of HBCU football games. (Mainstream schools only have football games). They are regular football games, Classics, and homecomings. At a regular football game your HBCU is playing a team, maybe not in your conference, and maybe not an HBCU. Fans will show up, but many may just stay in the parking lots chillin'. Classics are "must be at" social events.
The earliest documented use of "classic" as part of an annual HBCU football game dates back to 1927. It was on Halloween when the entitled Louisiana State Fair Classic took place. The game showcased Bishop College beating Southern 34-0. A couple weeks later Johnson C. Smith and Livingstone College (participants of the 1st Black college football game) met again in a game that was called the "Turkey Day Classic. The Bayou Classic, which features Grambling State University against Southern University, is probably the best known of all the "Classics." The game played the Saturday after Thanksgiving is broadcasted live on NBC. Legendary Coach Eddie Robinson of Grambling is widely regarded as perfecting classics as revenue generating social events.
I would suggest that everyone who is reading this column strongly consider putting an HBCU Football Classic on your "bucket list." The games, the bands, the cheerleaders, and the tailgating looks great on television BUT your TV screen cannot capture everything. You have to be there to get the full experience. There have been several "Classics" already played this season including the Aggie-Eagle Classic between North Carolina A&T State University and North Carolina Central University. The two teams first met in 1922. In the 100th version of the game NCCU won 28-13. The Black College Football Hall of Fame Classic was played in Canton, Ohio at the Tom Benson Hall of Fame Stadium. Central State University (SIAC) defeated Winston-Salem State University (CIAA) 41-21. In the Southern Heritage Classic Jackson State University defeated Tennessee State University 16-3 at the Liberty Bowl in Memphis. You can Google up HBCU Football Classics. The season is young and there are countless games remaining. If there is one in your area going to a HBCU Classic is worth the experience.
Homecomings are week-long events featuring coronations of campus kings and queens, fashion shows, concerts, galas, golfing events, tailgating, bid whist-domino tournaments, parties, more parties and somehow a football game will take place. The key thing about picking a homecoming opponent is to schedule someone that you can beat. Homecoming usually is the only game that out-of-town alumni attend. A homecoming victory and donations go hand and hand. A homecoming victory can also erase an otherwise poor season not to mention a win could save a coach his job. I have discovered that you don't even have to have attended the school to enjoy the homecoming festivities. Someone will mistake you for someone they knew in their freshmen year English class and offer you a drink and something to eat. It's how we roll. You can also Google up HBCU Homecomings, most are played in October. Try one, I am sure you will enjoy it.
Week three of the HBCU Football season also included a bunch of what I call "money games." Again, these are un-winnable games played against higher level competition. We take these games strictly for the payout. Thus, there were a lot of lopsided scores like 73-14, 43-3, 41-0, 63-7, and 76-3. Again, I will not go into detail on these lopsided events. They do not benefit either the winners or the losers.
There was a "money game" that was played for a deeper reason last week. The Alabama State University Hornets (SWAC) traveled to the Rose Bowl to play the UCLA Bruins. UCLA AD Martin Larmond grew up in the HBCU culture back east. His mother attended NC Central University. He was once the ball boy for my Fayetteville State University Broncos. You can Google up his story on www.andscape.com. Mr. Larmond wanted to introduce the HBCU Culture to California. He has scheduled another HBCU team to play his Bruins next season, the North Carolina Central University Eagles. By the way, UCLA defeated ASU 45-7.
In the shocker of the week, Virginia Union University (CIAA) traveled to Valdosta, Ga. to play the 2nd ranked (Division II) Valdosta State Blazers. VSU is like the Clemson University of Division II always vying for a national championship. VSU has an enrollment of nearly 9,000 students. VUU only 1,200. The Panthers (2-0) upset the Blazers 45-40. VUU running back Jada Byers became the 1st Panther to rush for 300 yards in a game. Way to go Jada!!
Next week Vol. VI. If you are good, they (the professional ranks) will find you.
Remember a HBCU will accept you for who you are, and not just tolerate you for who you aren't"
---