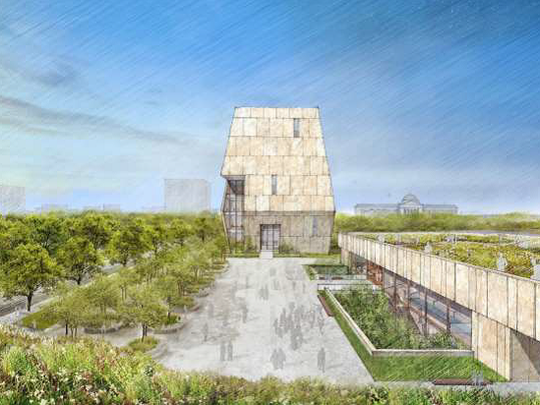 Photo:  Rendering of the Obama Presidential Center in Chicago.
The Obama's are back to work after a long and much needed vacation from their WhiteHouse duties.  The former President of the United States announced that he and Michelle will donate $2 million to the youth jobs programs in Chicago this summer.
While discussing plans for the Obama Presidential Center at a presentation on Wednesday at the South Shore Cultural Center, Obama stated,
"One of the things that we will be starting this year is Michelle and I personally are going to donate $2 million to our summer jobs programs here in the community, so that right away, young people can get to work and we can start providing opportunities to all of them."
The center, a 200,000-square-foot campus that will be housed in the Jackson Park neighborhood on Chicago's south side, will take four years to construct, and will include three buildings — a library, a museum and a forum.
In an effort to dispel the perception of Chicago as a violent, dangerous city, Barack Obama seeks to start job creation programs immediately. The center will also provide new jobs for the historically Black Woodlawn neighborhood, and attract a large number of visitors.
"We'll be working with the city, we'll be working with the county, we'll be working with businesses, because part of what we want to do is reach young people who might be at risk if they don't have something to do during the summers," the former president said. "But part of what we also want to do is to reach older youth who may be prepared for apprenticeships because one of the things that this project is going to do is generate jobs. We want to make sure that some of those young people can get trained so people don't say, 'Why didn't you hire anybody from the neighborhood?'"
The budget for the project is expected to cost $500 million and be completed by 2021.
Source:  EBONY