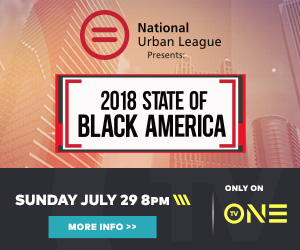 TV One
 and 
National Urban League (NUL)'s 
town hall panel discussion, 
THE STATE OF BLACK AMERICA
, premieres this 
Sunday, July 29 
at
 7 PM CT/8 PM ET 
on 
TV One
.
The two-hour special, which was taped at The Howard Theatre in Washington, D.C. back in May, is a panel discussion about present and future conditions facing black America and is based on findings from NUL's annual report "The State of Black America."
Moderated by award-winning journalist, TV host, and Senior Analyst for The Tom Joyner Morning Show, Roland S. Martin, the town hall focuses on racial inequality in America across economics, education, health, wealth, social justice and civic engagement. Panelists include Jason Towns, venture capitalist and managing partner at Groundwork Ventures; Kimberly Bryant, founder and executive director at Black Girls Code; Brittney Cooper, professor and author of Beyond Respectability, Damon Young, editor-in-chief and co-founder of Very Smart Brothas; Linda Goler Blount, president and CEO of Black Women's Health Imperative; Ben Crump, civil rights attorney; Angela Yee, radio personality; and Shermichael Singleton, political strategist.