San Diego Repertory audiences will be the first on the West Coast to experience, "The Mountain Top," A Broadway production originally starring Angela Bassett and Samuel L. Jackson.
Award-winning Playwright Katori Hall, remarkably imagines "The Mountaintop," a fictional depiction of Dr. Martin Luther King, Jr.'s, last night on earth set in the room of the Lorraine Motel on the eve of his assassination.  Directed brilliantly by Obie Award-winning director Roger Guenveur Smith, the play takes the audience on a historical journey while revealing the human side of Martin Luther King, Jr.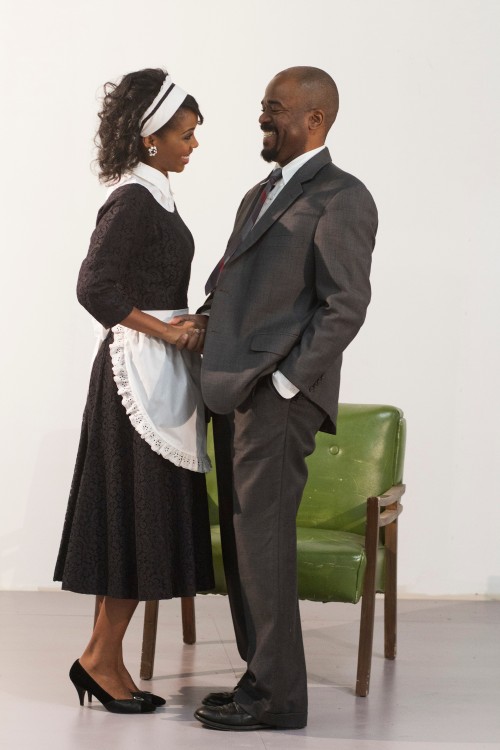 After delivering his "I've Been to the Mountaintop" speech, Dr. King returns to his room 306 and, orders a cup of coffee from room service.  While waiting, he opens the door and calls out several times to confidante and loyal friend, Ralph Abernathy, who's gone out to pick up Pall Mall cigarettes.
Ironically today, March 11, just happens to be the birthday of civil rights activist Ralph Abernathy.
In the meantime enters the lovely, sexy, street-wise Camae, played hilariously by the dynamic Danielle Mone` Truitt, undoubtedly a star in the making with a bright future ahead.  Petite and feisty,  Truitt has tremendous stage presence as she captivates the audience the second she enters the stage with her charm and wit.
As the story begins to unfold, the two characters carry-on with flirtatious dialogue and seductive dancing which leads to ultimately Camae, revealing herself as a smoking, drinking, cussing angel who surprises King when she slips up and calls him Michael, his birth name after his father, a fact that few people knew.  She also doesn't hold back in telling King, that she's admirer Malcolm X who doesn't cheat on his wife.
Actor Larry Bates, who some might argue has a striking resemblance to Dr. King, turns a compelling performance in his poignant portrayal of Dr. King's human side: A proud family man, dedicated human rights activist, a Baptist preacher who smokes, curses, drinks, easily tempted by women and one who cheats on his wife.
This creative and soul stirring critically acclaimed drama premiered in London in 2009, winning the Olivier Award for Best New Play in 2010.
"The Mountain Top" is now playing through March 31st,  performed in the intimacy of the Lyceum Theatre, where all seats are within 25 feet of the stage.  For tickets contact the Lyceum Theatre.