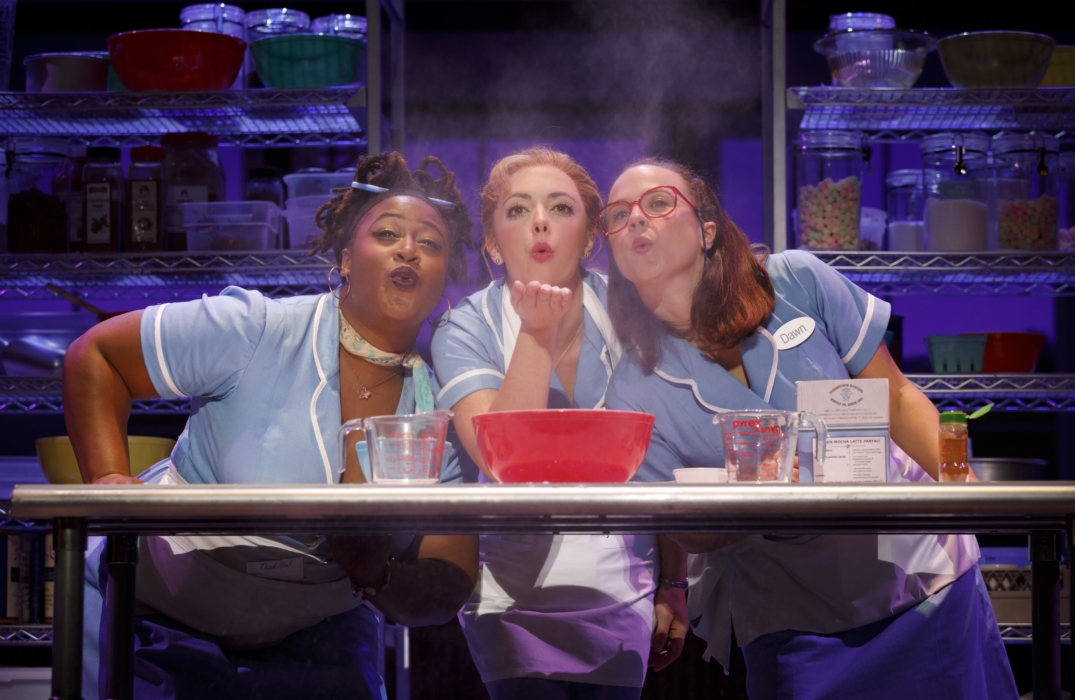 Waitress the Musical. Photo by: Joan Marcus
This week through December 2, Broadway San Diego's latest Tony nominated musical to hit the stage is "Waitress." Based on the film written by Adrienne Shelly, and starring Kerry Russell, the story centers on a waitress in an abusive marriage who recently finds out that she's pregnant by her narcissistic husband, and finds solace in her two co-workers. To ease the pain of being in a loveless marriage, she finds herself emotionally baking delicious pies on a whim while spontaneously coming up with creative names as she's baking.
The show is centered around Jenna, played by Christine Dwyer, an expert pie baker/waitress who works in a place called Joe's Pie Diner set in a small southern town.  Jenna is known for making wonderful pies inspired by her late mother, who was also in an abusive relationship.
Jenna's abusive husband, Earl, played convincingly by Matt DeAngelis, makes frequent stops at her place of employment just to take her hard earned tips, and to make verbal attacks on his wife, boldly humiliating her right in front of customers and co-workers.
Jenna's life gets even more complicated when she begins to have an affair with her new physician, a young good looking Dr. Pomatter played handsomely by Steven Good.
Despite facing the grim circumstances of being pregnant and in a bad marriage with a man who she despises, Jenna's co-workers Dawn and Becky, who both have dreams and issues of their own, try and help Jenna to make light of her situation through humor, love and light.
"Waitress" also stars, Jessie Shelton as Dawn, Maiesha McQueen as Becky, who add humor and spice to their roles as Jenna's ride or die besties.  Larry Marshall plays Joe, the owner of the diner who's insightful jokes opens a door and sheds a light on Jenna's seemingly miserable life. In the film Joe's character is played by Andy Griffith.
Two young southern California area actresses will alternate playing the role of "Lulu," Kensley Dibble, 5, of Temecula, and Sloane Viora, 5, of Point Loma (San Diego) the daughter of the production's main character, Jenna.
While the story is largely drawn from the film, the diverse cast, hence, representation matters, adds magic to an ensemble that bring out spectacular performances. In particular, vocals and song choices by lead character Dwyer in "She Used to Be Mine." 
The music and lyrics for the show are by Sara Bareilles ("Brave," "Love Song"), who has never written a Broadway musical before, but who's been nominated for six Grammy Awards, did a wonderful job penning songs that capture the moment and add understanding of the characters.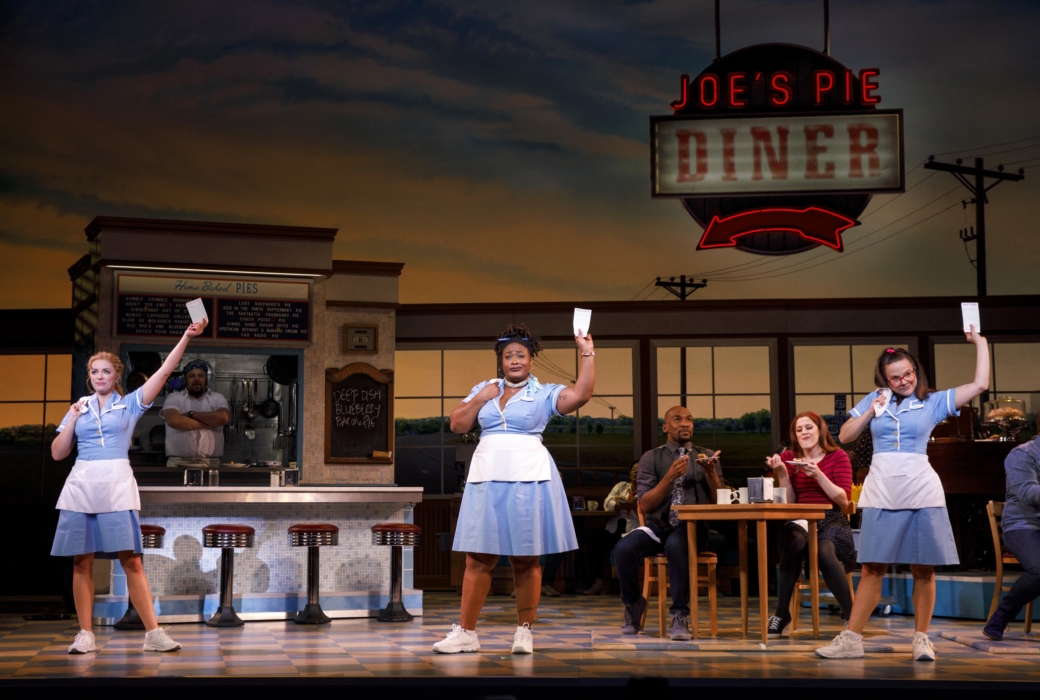 Waitress the Musical.  Photo:  Joan Marcus
For those who have seen the film, it follows the storyline pretty closely.  For those who have not, you may find it hard to make light out of an abusive relationship.  With that in mind "Waitress" is a whimsical show where you can leave your troubles at the door through the art of pie making. Simply put, the show is a whimsical pie making delight.
"Waitress" is now playing at the San Diego Civic Theatre through December 2, 2018.
Click here for more information on tickets to see Waitress