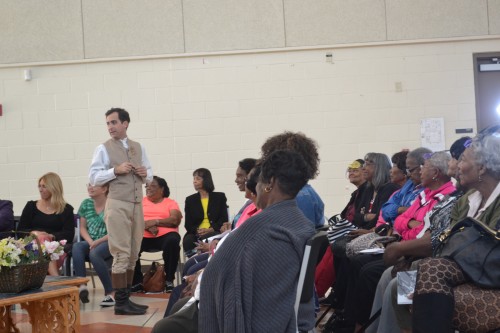 (San Diego, CA) On Friday, afternoon November 13, community members at the George L. Stevens Senior Center in San Diego, had an opportunity to attend an intimate performance of Shakespeare's, beloved romantic comedy Much Ado About Nothing.
The internationally acclaimed Tony® Award–winning Old Globe, for the second year brings Globe For All, a free professional theatre directly to diverse communities around San Diego County.
The lively production directed by Rob Melrose, was set in the centers auditorium where approximately 50 people sat in the audience surrounding the actors, giving out a theatre-in-the-round effect.
Globe For All mobile tour presents an esteemed cast of local professional actors who do a fine job of bringing excitement and spontaneity to engage the audience, many of whom play multiple roles.  Members of the cast include: Lindsay Brill (Margaret, Verges, Friar Francis), Charlotte Bydwell (Hero), Lowell Byers ( Don John, Dogberry, Antonio, Messenger), Jamal Douglas (Claudio, 2nd Watchman), Monique Gaffney (Beatrice, Sexton), Tyler Kent (Don Pedro, Conrad), Christopher Salazar (Benedick, 1st Watchman) and, Patrick Zeller (Leonato, Borachio, Balthazar).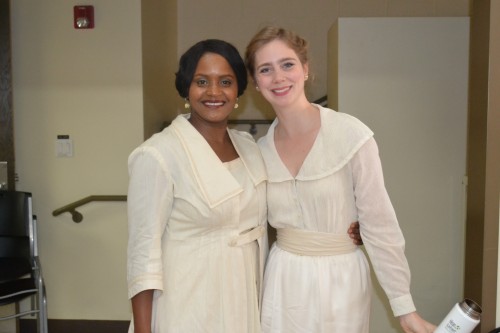 During a brief intermission, the cast mixed and mingled among themselves and with the audience as the Fourth District Senior Resource Center (FDSRC) Seasoned Line Dancers soulfully performed.
After intermission,  the audience headed back to their seats for act 2 for more of the enchanting comedy.
The objective of Globe For All is to make professional theatre available to audiences who may not experience regular access to performing arts, by taking theatre out into the community.
In 2014 the inaugural Globe For All performed to over 900 people in homeless shelters, centers for the elderly, military bases, prisons and other community venues who face obstacles in attending the theatre.
George L. Stevens Senior Center is located in southeastern San Diego's 4th Council District, provides services to moderate to low income seniors.  Click here for more information on the center. 
The Globe For All mobile tour began on November 10 and will culminate in four low-cost performances on November 21 and 22 in Balboa Park's historic House of Charm.  For more information on times and locations visit TheGlobe.org.