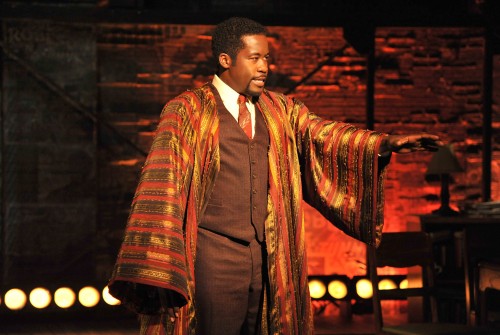 Currently starring in a one man performance at The La Jolla Playhouse, in its world premiere of The Tallest Tree in the Forest, Obie Award-winning actor/playwright Daniel Beaty's performance is superb.
In the production, co-produced with The Kansas City Repertory Theatre, Beaty mesmerizes the audience in his portrayal of the iconic Paul Robeson.
Robeson who at age 17, earned a scholarship to attend Rutgers University, was only the third African American to do so.  He went on to become one of the institution's most talented and brilliant students.  While in college, he was a football All-American and, class valedictorian.
Beaty's stage performance shifts back and forth playing multiple characters including, the memorable and humorous portrayal of Robeson's wife, Eslandia whom he met while studying at Columbia University's Law School.
The storyline takes the audience on a journey during the life and times of the scholar, who briefly served as a Lawyer, and resigned after encountering severe racism.  After leaving the law field, he went on to become internationally known for his, acting-singing and bold political activism.
The Tallest Tree in The Forest creatively brings to the stage Robeson's colorful life before and during the Harlem Renaissance.  The production showcases Beaty's rich vocals, while performing Robeson's signature song "Ol Man River," from the Broadway musical "Showboat."
For a thought provoking and in depth look into the heart and soul of the remarkable life of Paul Robeson, let's just say Beaty does the role sincere justice.
To purchase tickets to The Tallest Tree in the Forest" call (858) 550-1010 or online at LaJollaPlayhouse.org.