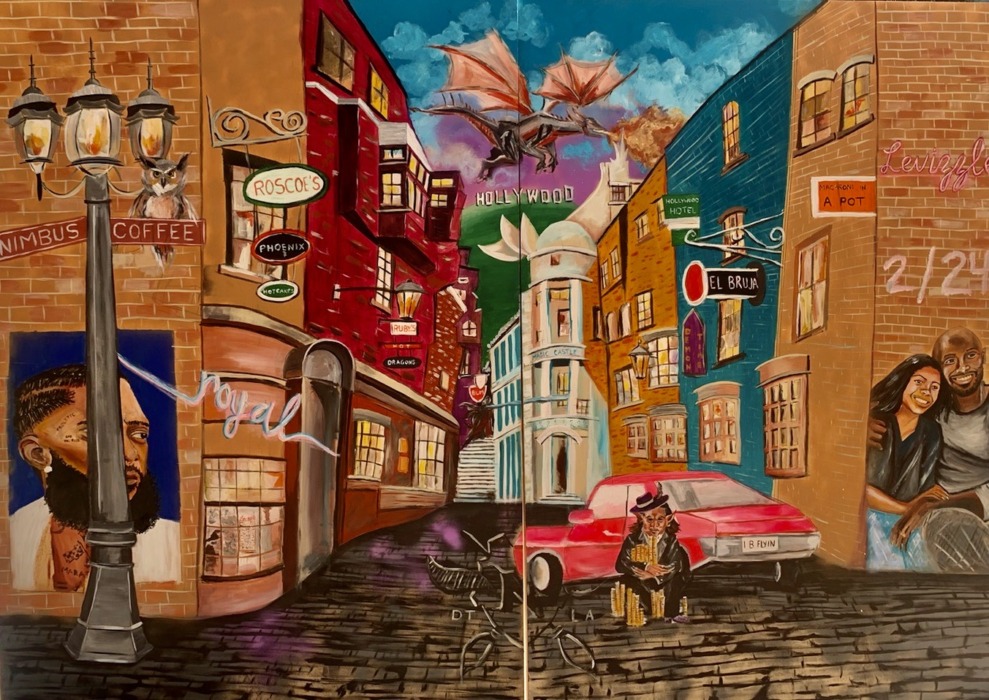 Imagine a magical coffee shop where witches, wizards and muggles alike can all enjoy delicious treats and whimsical beverages. A coffee shop that's inspired by the Harry Potter series, and whose decor reimagines characters as black American pop culture icons. From Mariah LeStrange to Albus Freeman – and even a Half-blood Prince, Nimbus coffee is a blerd paradise complete with wands that don't just levitate….they levizzle! We got a chance to interview the founders, a few days before International Coffee Day, and we're highlighting this black-woman owned coffee shop that's making magical waves in downtown LA.
Eviana Farrar, a lawyer and her mother Shawn, a former diversity and inclusion corporate executive, are the owners of Nimbus Coffee—the hottest coffee shop for lovers of Hogwarts, and for anyone who truly enjoys good coffee. While studying in law school, Eviana frequented specialty coffee shops where she discovered a variety of unique recipes and coffee blends. She immersed herself in the vibey, warm and calming coffee shops—so much so that the idea for Nimbus was sparked. So how did the magic enter the picture? Eviana, a self-professed giant blerd—[yes, that is a black nerd for our muggle readers], says that when she first decided to open up a coffee shop, she wanted to make sure that it had her spin on it. She wanted something fun, a little nostalgic. Something whimsical and all things fantasy that shaped her childhood.
Described as an Urban Wizarding coffee shop, part of the magic of Nimbus Coffee is a celebration of blackness within the wizarding world. We asked Eviana, why it was important to portray black icons in this light, and she said, "I wanted to see us in fantasy characters that I don't see us placed in." When asked their opinions on why the wizarding world resonates with so many black people, Eviana said,
"I think it's because there's a sense of strength and power that ordinary people with extraordinary gifts have, that's something that black people possess. We are normally very talented." Shawn chimed in with, "We possess these gifts and powers that go underrepresented or unnoticed. We want to be in a world where we are recognized for being special. I think maybe that's why I feel that it resonates so well."
The black girl magic is real, and visitors from all over the world come to the shop to experience a bit of the enchantment. A few of the highlights for Nimbus has been when customers come in and say, "this is the best place ever!" Eviana says, "Or when people drive from all other the country to see the space."
Not only does Nimbus Coffee enchant out of town visitors, but they're spreading the magic within the local community, by developing partnerships with the neighboring organizations. The ladies are incredibly proud of their collaboration with Residency House, an employer for the homeless where they provide tees and sweatshirts for the business.
In the wake of the #blacklivesmatter protests, Nimbus Coffee saw an influx of new customers, despite the difficulties with the pandemic. "It brought this surge of energy to us for support when the world was saying, hey, let's support a black-owned business. There's not a lot of us here in LA but, it created a community among all of us. It took that moment to bring us all together. Coffee is universal." Eviana recalls.
Now, listen up fellow Harry Potter fans— we asked the ladies one last important question… which Hogwarts house do they belong to. Eviana is a proud Slytherin, and says that most of the customers are Slytherin, while Shawn on the other is a confident Gryffindor. As for you muggles out there, make sure to visit Nimbus coffee, so that you can experience the magic of their coffee, tea & gigglewater, irresistible pastries, their delectable savory foods, and of course—the charming ambiance that surrounds this bewitching shop!
PS – we especially love the mural outside, complete with a spellbinding homage to Nipsey Hussle, Kobe & Gianna Bryant, and there's even little easter eggs of black American culture sprinkled all throughout the artwork. But, don't take our word for it – let the magic move you—levizzle!
---
Check out the magic of Nimbus Coffee at 1115 S Hope St, Los Angeles, CA 90015.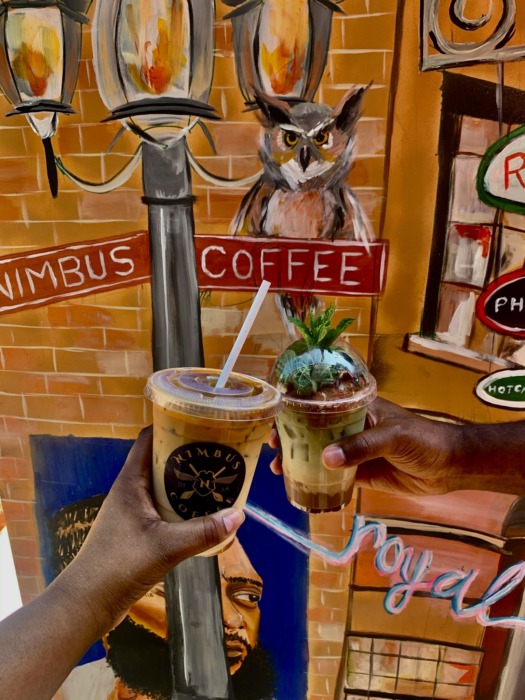 Interview by: Gwen Pierce
Co-written by Gwen Pierce and Shanda Pierce