With the success of James Corden's Carpool Karaoke, it only seems fitting for someone else to kick it up a notch right?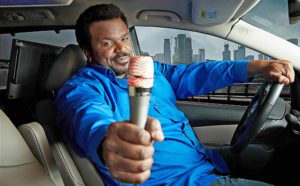 Enter Craig Robinson. According to various sites, the comedian will attempt to blend aspects of the Carpool Karaoke segment with the Discovery Channel's Cash Cab show. Caraoke Showdown will include unsuspecting contestants hitching a ride with Craig Robinson, and as he drives them around the city, they must sing along to popular songs, finish the lyrics, and act out segments from hit songs for a cash prize.
Okay, we'll see Craig. We will see. The show is filming this summer and is geared to premiere in 2017 on Spike TV.
– Shanda