Celebrating St. Patrick's Day in my house was a given. I grew up with the traditional corned beef, cabbage and potatoes. Over the years that has changed and my own family's new favorite dish to celebrate is Irish Stew. It's so delicious.
If I don't make this a few times in the winter, I'm definitely reminded that this dish is a favorite when Spring rolls around.
Traditional Irish stew is made with lamb or mutton. I do make it with lamb, but I just love that union with the beef and of course the Irish stout. Irish Stew without Irish stout is like a beach without sand! They do go hand in hand. Yes, like a marital union.
Enjoy the recipe!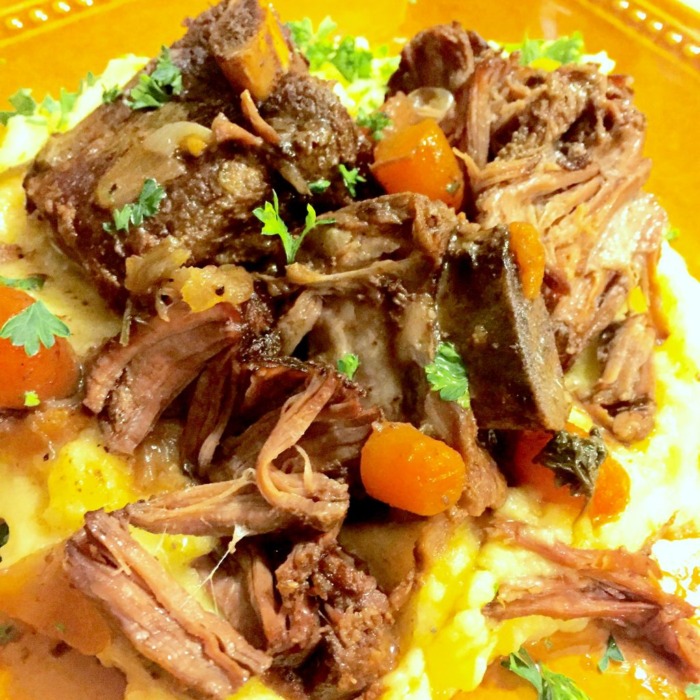 INGREDIENTS
Irish Stew
½ cup all-purpose flour
2 teaspoons salt, divided
1 teaspoon black pepper, divided
4 pounds beef short ribs
2 tablespoons olive oil
2 onions, chopped
2 stalks celery, chopped
2 carrots, chopped
6 cloves garlic, minced
6 sprigs of fresh thyme or 1 teaspoon dried
1 apple, chopped
1 15 oz. bottle Irish stout, divided (1cup aside)
2 cups chicken stock
2 tablespoons Worchestire Sauce
1 bay leaf
1 cup chopped fresh parsley, divided
INSTRUCTIONS
Heat the oil in heavy-bottomed Dutch oven over medium-high heat.
Combine the flour, half of the salt and pepper in a large bowl.
Dredge short ribs into the flour. Shake off any excess flour and let sit for 5 minutes.
Brown ribs in batches for several minutes on all sides. Set browned ribs aside on a platter.
Drain any excess oil from the pot beyond a few tablespoons.
Preheat oven to 350 degrees.
Add onions, celery, carrots, garlic, thyme sprigs, apples and saute for several minutes.
Deglaze the pot with 1 cup of the stout.
Add divided salt, pepper, half of the parsley and the remaining ingredients.
Return short ribs to the pot. Bring stew to a boil, cover and place in the oven for at least 2 hours or until the meat is fork tender.
Remove any fat from the top of the stew.
Add remaining parsley and serve over mashed potatoes!
Recipe yields 6 to 8 servings.
Recipe courtesy of Carla Crudup.
Carla Crudup is an Award-Winning Food Columnist, Chef and Culinary Instructor originally from Los Angeles, California, currently based in San Diego . She has worked as a Brand Ambassador, Product Spokesperson and Culinary Instructor for companies like Williams-Sonoma, Dreamfields Pasta, Lender's Bagels, Wild Oats (owned by Whole Foods), STAR Fine Foods and Macy's. Carla has been featured in numerous media outlets and publications, including YAHOO, Taste of Home, Light & Tasty, The Food Channel, Multicultural Cooking Network, Cuisine Noir, The St. Louis Post and 94.7 The Wave.
Carla's culinary philosophy is to focus on fresh, seasonal, locally-sourced ingredients for all of the dishes she prepares. Carla enjoys showcasing unique international ingredients and healthy and delicious meals prepared for special diets, including gluten-free, diabetic-friendly and vegan.
Be sure and check out CarlaCrudup.com and follow her on social media on Instagram and Facebook @CarlaCrudup