Let's just say, Thornton has that "WAM" factor! In case you're wondering what WAM stands for, it's: wine, ambiance and music.
Over the years, Thornton Winery's Champagne Jazz series has become known as southern California's premiere summer venue.
Surrounded with spectacular views, the scenic Temecula winery is not only famous for its selection of award-winning fine wines created by winemaker David Vergari, but for bringing in the most extraordinarily talented jazz artists from around the world.
Speaking of which, on Saturday, May 18, the warm and welcoming Thornton Winery owners: John, Sally and Steve Thornton, hosted a fabulous press party followed by an evening of music featuring the smooth sounds of the prolific acoustic guitarist and lyricist, Peter White.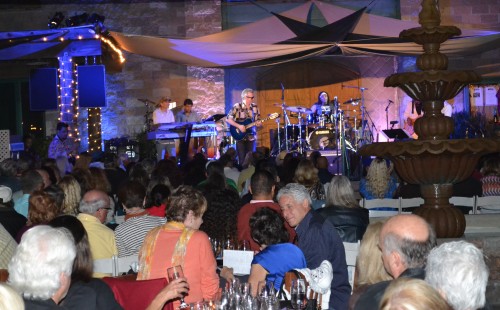 White, a native of England, is only the second to perform at the series this year but has performed at the scenic venue on numerous occasions.
"It's always a party when I play at Thornton Winery!" White was quoted on his Facebook page as saying.
Needless to say, he's absolutely right because Thornton certainly has the combination of all the elements that make up a good party.
Before the official party started, and prior to going on stage, White graciously joined fifteen members of the press in the wine caves for a glass of champagne and a quick photo.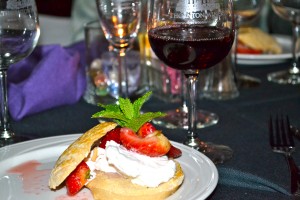 Widely regarded as a fan favorite, the  soft spoken and versatile UK jazz artist, alongside his amazingly talented band, was simply amazing!
While listening to White's extraordinarily soulful sounds, which included instrumental versions of the popular Motown hit "Papa Was a Rolling Stone," recorded by The Temptations, Burt Bacharach's "Walk-on By" and "Could it Be I'm Falling in Love" recorded by the Spinners, guests were served a three-course gourmet meal.
The flavorful contemporary cuisine, provided by the winery's on-site restaurant featured: Tuscan Artichoke Salad paired with Thornton 2012 Pinot Grigio and Oven Roasted Pacific Sea Bass, paired with 2012 Reserve Chardonnay. The last item on the menu was the delightful dessert, which consisted of a Caramel Short Cake with Crème Chantilly topped with delicious organic strawberries.  Thornton's award-winning head chef Steve Pickell deserves high praise for the wonderful meal!
Needless to say, jazz, food and wine enthusiast who want to experience that "WAM" factor is what keeps fans coming back every year for more and more of Thornton Winery's unforgettable Champagne Jazz Series.
For more information on the line-up at Thornton Winery's 25th Annual Champagne Jazz Series, located at 23575 Rancho California Road, Temecula, CA, visit www.thorntonwine.com.