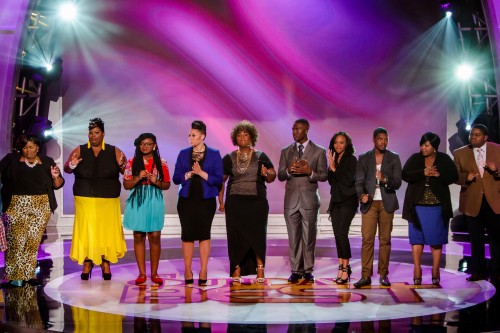 NEW YORK—July 21, 2014 – Once again viewers are singing the praises of BET Networks' award-winning hit gospel competition show SUNDAY BEST, with millions of dedicated viewers tuning in to the season seven premiere on July 6th.  Hosted by Kirk Franklin and featuring new judge Kierra Sheard, alongside gospel legends Pastor Donnie McClurkin and Yolanda Adams,SUNDAY BEST continues its reign as television's #1 gospel series.
The Top 10 finalists were announced in last night's episode (alphabetized by first name):
Anita Johnson – New York, NY
Ayodele Owolabi – Macon, GA
Brightnie Jones – New York, NY
Candace Benson – Pottstown, PA
Damarka Wheeler – Buffalo, NY
DeAngelo Gardner – Detroit, MI
Geoffrey Golden – Cleveland, OH
Jay Williamson – Shreveport, LA
Serena Young – Rochester, NY
Tiquila Wilson – Winston Salem, NC
This season fans can expect to be blown away by performances as the hopefuls make the journey all the way from auditions to the finals. Along the way, musical powerhouse and vocal mentor Kim Burrell will provide vocal guidance to the Top 10 contestants. Many are called but only one will be crowned victor of this season's SUNDAY BEST. In addition to the coveted title, the winner of season seven will receive a national recording contract with Fo Yo Soul / RCA Records and a cash prize. SUNDAY BEST will run for 9 consecutive weeks and is executive produced by Marilyn Gill, Kirk Franklin, Brian Gadinsky, and Arnold Preston.
For continuous SUNDAY BEST updates, please visit http://www.bet.com/SundayBest