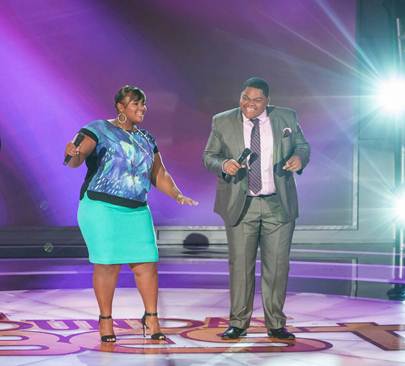 May the best voice win.  Philadelphia's Candace Benson and Cleveland's Geoffrey Golden, claimed the top spots, and will face off in the SUNDAY BEST finale.  Viewers will also be treated to special performances from Bishop Hezekiah Walker, actress/singer Tamela Mann and SUNDAY BEST  firm but loving judge, Yolanda Adams.  Many have been called, but only one will be crowned victor of this season's SUNDAY BEST!  
Viewers can catch final back-to-back episodes air Sunday, August 31st starting at 8 P.M. ET/PT. Hosted by Kirk Franklin and featuring new judge Kierra Sheard, alongside gospel legends Pastor Donnie McClurkin and Yolanda Adams, SUNDAY BEST continues its reign as television's #1 faith-based
This season fans have been blown away by performances as the hopefuls made the journey all the way from auditions to the finals. Along the way, musical powerhouse and vocal mentor Kim Burrell has provided vocal guidance to the contestants. In addition to the coveted title, the winner of season seven will receive a national recording contract with Fo Yo Soul / RCA Records and a cash prize. SUNDAY BEST is executive produced by, Marilyn Gill, Kirk Franklin, Brian Gadinsky, and Arnold Preston.
BACK-TO-BACK FINAL EPISODES AIR SUNDAY, AUGUST 31ST AT 8 P.M. ET/PT