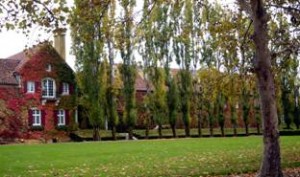 Big, stately and beautiful are the first descriptions that come to mind when recalling my recent trip to Sonoma Wine Country.  So big that it demands a two part recollection.
After all, Sonoma is the birthplace of California wine, with the first wine grapes planted in Fort Ross in about 1812.  The oldest premium winery, Buena Vista, was founded in 1857. Founding families still dominate the landscape, as Sonoma County boasts 370 wineries with  some 1,800 wine grape growers settled in 13 diverse AVA's, or appellations.
It feels like a country disguised as a county…a little bit of Italy, a little bit of France, but clearly California coastal in quality.
It was a quick direct air trip from San Diego to Santa Rosa, a bustling town of 167,000.
A few minutes north of Healdsburg, the prettiest town in Sonoma, and just east of Highway 101, is the Jordan Wine Estate in the Alexander Valley, making only high quality Cabernet Sauvignon and Chardonnay. The estate was founded by Tom and Sally Jordan, lovers of French wine who dreamt of making Jordan a titan of elegant Cabernet that would be fruit-forward with balanced, silky tannins.
The inaugural 1976 vintage was nurtured by winemaker Rob Davis, who makes Jordan wines to this day. The latest Cab vintage is the 2009 ($53), a Top Ten Taste pick of mine in last week's column. Davis described the 2009 vintage as "a great symphony, hitting all the right notes. We had dreamed about making a wine like the 2009 for so long; we are ecstatic."
The Alexander Valley was a perfect selection for Jordan, located at the Northern end of Sonoma County with The Russian River winding up its west side, and Mayacamas Mountains on the eastern borders.  While the warm locations are best for Bordeaux grapes like Cabernet and Chardonnay, its gentle inland slopes, or "cotes" as they are called in France, are reminiscent of Burgundy.
Although Jordan has 1,200 acres on the property from valley to lakes to peaks, there are vast areas of trees, rocks and vistas; lots of room to stretch out and enjoy the over 1,000 acres of land which are navigable  by vehicle.  There are 110 acres of grapevines and 18 acres of olive trees, gardens and pasture land.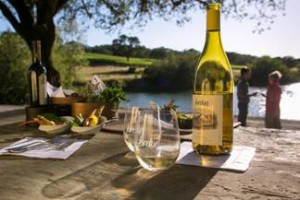 In 2005, Tom and Sally Jordan's son, John Jordan, left the world of law and became the present owner of Jordan.
He has taken Jordan to more enhanced fruit sourcing, searching the Sonoma district for the best grapes possible.
"Jordan wines have always remained true to what the Bordeaux style is meant to be…balanced and food-friendly," Jordan explains. Going forward, he is constantly continuing to improve all facets of wine and food quality. In addition, Jordan points out that, "We have a resident culinary staff for hospitality programs and believe that food and wine go together." Jordan makes 100,000 cases consisting of 1/3 Chardonnay and 2/3 Cabernet.  Most are consumed in restaurants, resorts, cruise lines and direct sales.
Frank Mangio is a renowned San Diego wine connoisseur certified by Wine Spectator.  He is one of the leading wine commentators on the web.  View and link up with his columns at www.tasteofwinetv.com.