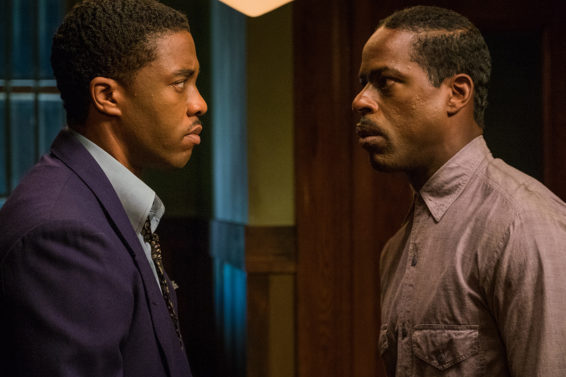 Thurgood Marshall the country's first African-American supreme court justice, is coming to the big screen and will be portrayed by non other than, Chadwick Boseman.
Chadwick Boseman is known for his stirring portrayals of Jackie Robinson (42) and James Brown in Get on Up, we're all award worthy performances.The film focuses on the years before the infamous Brown v. Board of Education decision and Marshall becoming the first African-American member of the nation's highest court. In the movie, the young rambunctious attorney for the NAACP teams up with Sam Friedman (portrayed by Josh Gad), a young lawyer with no experience in criminal law. The team sets out to defend a Black chauffeur named Joseph Spell (portrayed by Sterling K. Brown-'This is Us') who is accused of sexually assaulting and trying to kill his White employer, Eleanor Strubing (portrayed by Kate Hudson).
At a time when racial tension was palpable in this country, Marshall said, "The only way to get through a bigot's door is to break it down." Directed by Reginald Hudlin from a script by Jacob Koskoff and Michael Koskof, the film is scheduled for release October 13.
Watch the official Trailer below: