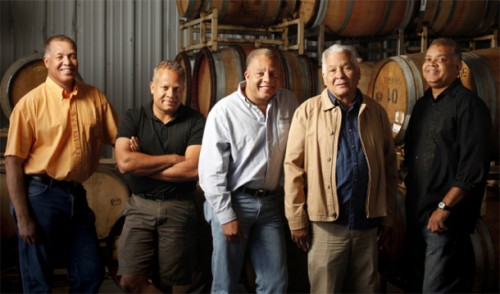 (Healdsburg, CA) On a recent trip to Northern California headed for Napa Valley wine country, we were determined to visit at least one Black-owned winery.
Despite the fact that, many of the vineyards run by people of color have made a significant impact on the wine industry and have received national recognition, there are only a handful of Black-owned wineries in the United States. 
One of the few, located in picturesque Healdsburg, CA (Sonoma County) is the historic Everette Ridge/Esterlina Vineyards, owned and operated by the Sterling Family.
Fun fact: Esterlina Vineyards' 2004 Cole Ranch Riesling and, 2007 Dry Riesling was served at the White House, during President George W. Bushs' Administration.
The Sterling family has been making wine under the Esterlina label, which is their name in Spanish, for more than a decade now.  As one of the few black families that owns vineyards in America, the Sterlings farmed for three generations before getting into the wine business.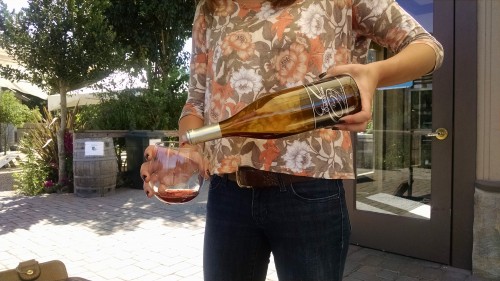 Nestled on a hillside at the edge of Dry Creek and Russian River, the winery was originally built in 1887 by Everette Wise.
 In 2006, the 250 acre winery was purchased, renovated and updated by patriarch Mario and his wife Doris Sterling.  Originally cattle ranchers and grape growers from the Central Valley, the wines produced by the Sterlings are handcrafted wines in three different varieties–Pinot Noir, Dry Riesling and Riesling wines.
Once you walk through the doors, a feeling of cultural pride is displayed artistically on the shelves and walls, which are adorned with framed press articles, African American art pieces, and books written by Black authors spread out throughout the warm and cozy tasting room. The friendly hostess makes sure that guests are kept up to date with what's going on with the winery by inviting them to grab a 2015 events card which shows upcoming events hosted by Esterlina that includes:  Several wine club party's, A Cole Ranch Picnic and a Meat Lover's Night/Sterling Brothers' Grill War which is typically held in late September.
Tastings are offered at the bar, or outside at tables overlooking the vineyards which is perfect for a picnic. This place appears to be a popular stopover for bicycling groups that slipped in and out for tastings during our visit.
Wine tastings interestingly paired with a bowl of cheese puffs, are reasonably priced at $15.00/per person.
We sipped on the Zinfandel ($32), Petite Sirah ($32), Cabernet Sauvignon ($40), Pinot Noir ($42) and a dry Riesling ($19).  The winery also produces Sangiovese, Chardonnay and a Port.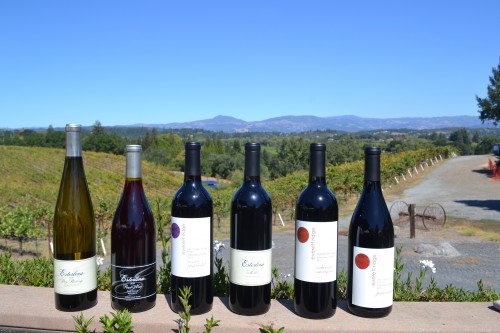 The family business consists of son's: Winemaker, Dr. Eric Sterling who practices medicine in Santa Rosa. Chris Sterling, an attorney with an MBA (Vinyard management), Stephen Sterling, MBA (Marketing) and Craig Sterling (Operations).
Esterlina also owns the only vineyard in the Cole Ranch Appellation, which is America's smallest American Viticultural Area.
Click on link for more information on Esterlina Vineyards.  Or visit Esterlina/Everette Ridge at 435 Dry Creek Road, Healdsburg, CA 95448.   
Also check out this list of other Black Owned Wineries:
http://www.zuriwine.com/black-owned-wineries.html