The breathtakingly beautiful Islands with picturesque beaches, gorgeous sunsets, shopping, fine dining, lots and lots of relaxed people, and plenty to see and do.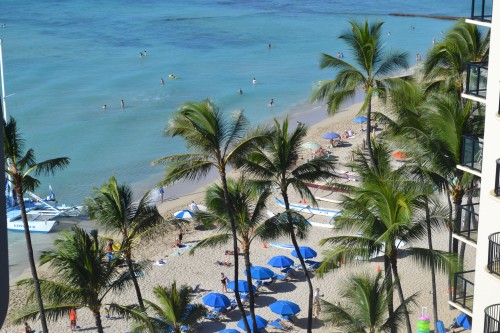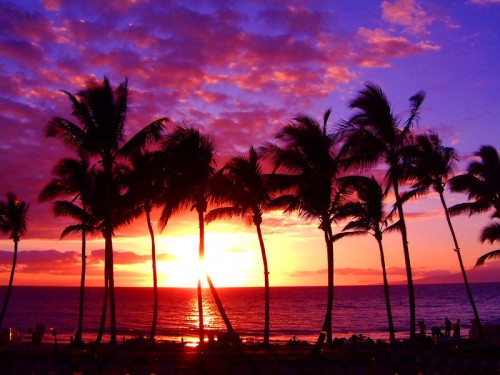 Where in Hawaii Did We Go? Since we've heard so much about the capitol Honolulu, we decided why not check out the Island of Oahu!
Why Oahu? Originally, our plans were only to spend time in Maui, for the Maui Classic Basketball tournament. However, since we've gone to Maui on past trips, we decided to take a few extra days and stop over in Oahu, in hopes of getting a different type of Hawaiian experience.
Where Did We Stay? The historic Westin Moana Surfrider Resort and Spa, which has an amazing plantation style architecture that's best described as a mixture of coziness combined with regal elegance.  Known as the oldest resort property in Hawaii, the Moana is situated along Waikiki beach, surrounded by breathtakingly beautiful views, a banyan tree in the courtyard, veranda, beach bar and lanai over looking Kalakaua Ave. Rumor has it that President Obama's staff stays there when the president is in town on vacation.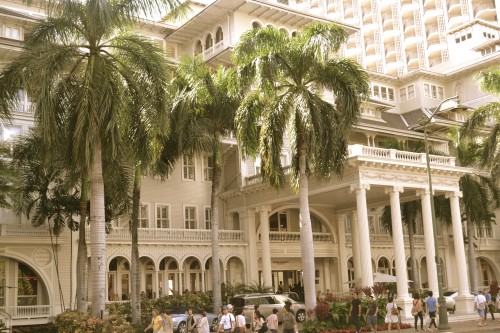 What Did We Do? We enjoyed going for morning walks along the world class Waikiki beach. Interestingly, as early as 6am the beach was packed with people walking.  Yet in still,  it was so quiet you could hear a pin drop. Afterwards, we'd grab a cup of Island Vintage coffee, sit and relax on the lanai in the wooden rocking chairs and simply just people watch. At first sight it's overwhelming because, there are  lot's and lot's of people on Oahu, which is something we didn't expect to see in Hawaii. It's very metropolitan.
Luckily for us, we just happened to be in town on a Wednesday evening to catch a live performance at the Moana Surfrider's ocean front beach bar, featuring an extraordinarily gifted musician by the name of Jeremy Cheng. Cheng, an acoustic guitarist and vocalist sang some of his originals and, remarkably covered timeless music by Al Green, Sam Smith and John Legend, to name a few.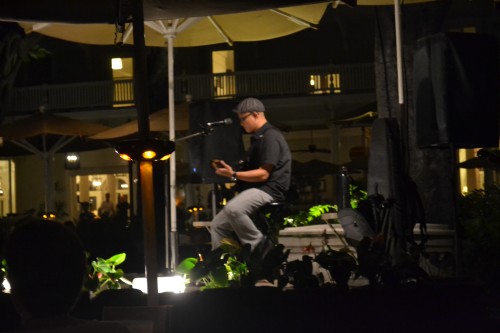 Since our stay in Oahu was pretty quick, the next day we decided to escape, but not too far from the amenities and beautiful surroundings of the resort and go for a walk, shop and dine along Kalakaua Ave, which was reminiscent of Rodeo Drive in Los Angeles with high end mixed with affordable stores.  
The next day, we ventured off, away from resort property and took a drive around the island checking out the scenic views.  We ended up stopping for a history lesson and going on the Pearl Harbor tour, which included the USS Arizona memorial. While there, on hand to share his experience was, Louis Conter one of the few living survivors.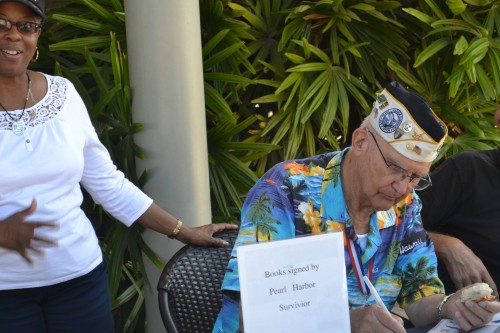 Where Did We Eat:  On our last day on Oʻahu, we made it our mission to drive around the island, off the beaten path, to check out the beautiful landscape. During our long drive, we decided to YELP Hawaiian Island Style BBQ. We came up with The Alley Restaurant Bar & Grill, a bowling alley/restaurant located in Aiea, HI. We loved it!  The Alley is a friendly, casual dining establishment with exceptional service. If you like fried chicken, you love the menu item Tasty Chicken. It's a deep fried flavorful crispy coating that is not just tasty, it's delicious!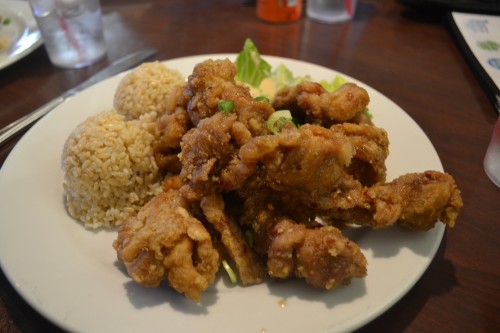 What we missed?  Although, surfing is not our forte, it still would have been nice to check out the sights of the North shore. It would have been so cool to see what's known as the surfing mecca of the world.
Another missed opportunity was visiting the Polynesian cultural center.  From what we understand, it's an authentic cultural education, where the world can experience the spirit, culture and people of all of the Polynesian islands.
What was the cost?  Our entire trip was booked through Starwood Vacations rewards program. Our suggestion is to check out rewards programs that offer frequent traveler points.