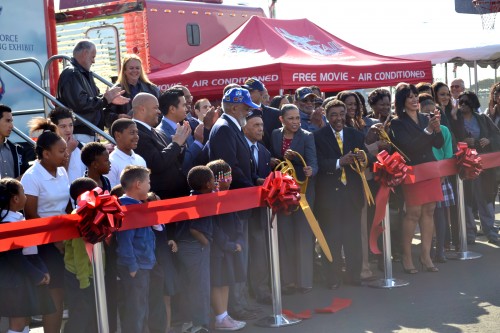 (San Diego, CA) Community members, dignitaries and students from San Diego's fourth council district, gathered in support of a ribbon cutting ceremony held on February 18, 2014 in honor of The RISE ABOVE TRAVELING MULTI-MEDIA EXHIBIT inspired by the legacy of the Tuskegee Airmen.
The commemorative Air Force Red Tail  Squadron Traveling Museum is currently stationed at Walter J. Porter Elementary, located at 445 S. 47th Street, San Diego, CA 92113. The exhibit is housed in a 53' long semi-rig and contains a 30-seat temperature –controlled movie theater with a 180-degree screen.  Every 45 minutes, it will run a 30-minute movie that highlights who the Tuskegee Airmen are, how they overcame obstacles to be allowed to train and fight as U.S. Army Air Corps Pilots, how more than 10,000 other black men and women also trained hard to support the pilots and what the courage and determination they exhibited then still means to America.
This movie will give viewers a feel of what it's like to pilot a Mustang and is expected to inspire students to purse a future in aviation.
The event was sponsored by: Centerplate, Mt. Erie Baptist Church, Neighborhood House Association, San Diego Regional Airport Authority, San Diego Unified School District, the Tuskegee Airmen San Diego Chapter and Urban League of San Diego County.
Exhibit Schedule For Schools and Youth Programs: Please book visits by calling: (619) 994-6421 or email [email protected].
"Rise Above," The Tuskegee Airmen Exhibit is FREE and open to the public Monday-Friday, February 18-21st, from 3:45 – 6:00.