Induction Ceremony Part of Annual Trumpet Awards Weekend Culminating in
the 22nd Annual Trumpet Awards Event Saturday, January 25th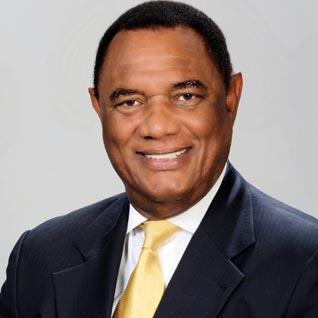 Via Press Release–SILVER SPRING, MD, JANUARY 10, 2014 – The Right Honorable Perry Gladstone Christine, Prime Minister and Minister of Finance of the Commonwealth of the Bahamas, will be inducted to the International Civil Rights Walk of Fame as part of the 22nd Annual Trumpet Awards Foundation weekend of activities and events. The Prime Minister joins a distinguished list of honorees to be inducted at the ceremony, scheduled for Friday, January 24 at 10:00a.m at the Martin Luther King, Jr. National Historic Site, National Park Service in Atlanta.  A program preceding the induction will be held at Ebenezer Baptist Church and the Prime Minister will attend the previously announced Awards show held at the Cobb Energy Performing Arts Centre on Saturday, January 25 in Atlanta, GA.
The Right Honorable Perry Gladstone Christie was sworn in as the fifth Prime Minister of an independent Bahamas on May 8, 2012, following the Progressive Liberal's Party (PLP) victory in the general elections of May 7, 2012. He is also the Minister of Finance with responsibility for the Office of the Prime Minister, Department of Lands and Surveys, Department of Statistics and the Ministry of Finance.
His present portfolio includes the following: Coordination of ministries, Government and Parliamentary business, disaster preparedness and emergency management, the Official Gazette, Hansard, Government Publications, Printing and Stationery, relations with the Clifton Heritage, Bahamas Information Services, relations with The Bahamas Telecommunications Company, relations with multi-lateral Financial Institutions, Administration of Tax Information Exchange Agreements, national statistics among others.
"The Trumpet Awards have always been a tremendous platform in which African Americans and those who champion African American goals have been recognized and honored," remarked Cathy Hughes, Founder and Chairperson, Radio One. "Having the Right Honorable Perry Christie in attendance and as an inductee to the International Civil Rights Walk of Fame, helps elevate the Trumpet Award Foundation initiatives to a worldwide level."
Conceived, founded, and nurtured by Xernona Clayton, The Annual Trumpet Awards was created to celebrate and honor African American achievers and those who support the African American experience. The Awards honor accomplishments in diverse fields including law, medicine, business, politics, the Arts, civil rights, sports, entrepreneurship, entertainment and other careers. Corporate support helps to make the production of the Trumpet Awards possible; and some of the major corporate sponsors include: The Coca-Cola Company; Cadillac; Wells Fargo; Delta Air Lines; Nordstrom; Newell Rubbermaid; Marriott Marquis Atlanta; Hyatt Regency Atlanta; The Home Depot; Southwest Airlines; Georgia Power, TV One and more.