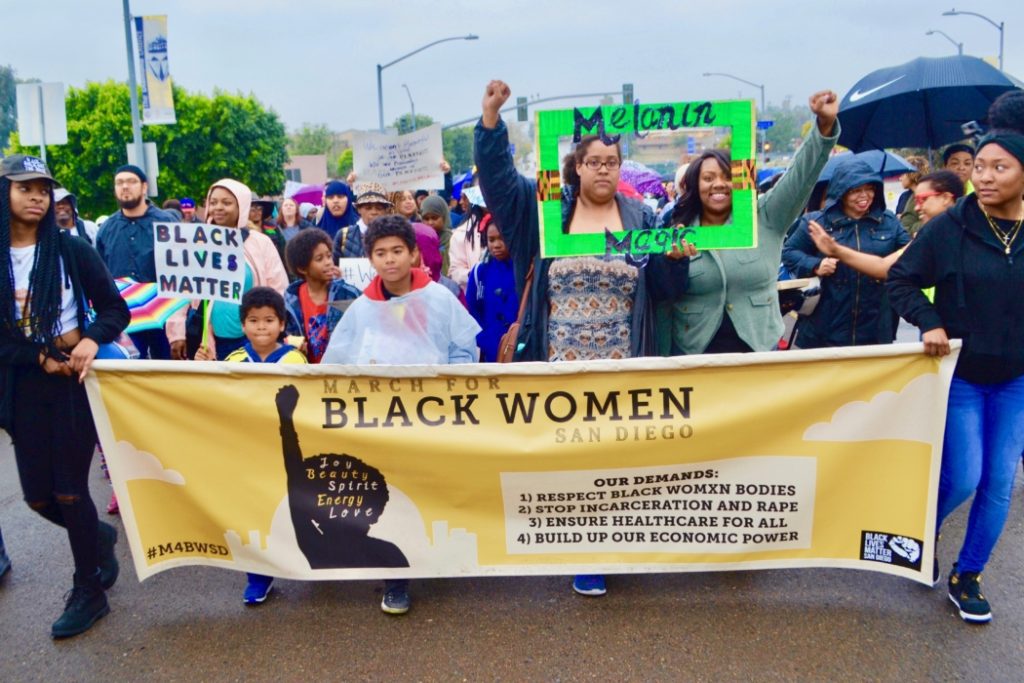 TRUST BLACK WOMEN! That, and among other bold  and unapologetic phrases could be heard loud and clear at center of the inaugural march for Black women held earlier today in San Diego, California.  Black women and allies united in solidarity while marching down the streets of Euclid and Logan carrying signs and chanting, TRUST BLACK WOMEN! The march ended at Malcolm X Library, at the corner of Euclid and Market.
Clearly, Black women are a force to be reckoned with. The goal of the Black Women's March of San Diego is to help them be heard. To bring to light centuries of injustices.  After having two town halls discussions, Black women in San Diego, and everywhere have come up with the following demands:
Demand 1: Acknowledge and challenge centuries of abuses, that are still happening, including sexual violence, and reproductive violations against black bodies, especially the brutalization of trans women, black girls, ALL BLACK WOMXN.
Demand 2: Cease and desist all threats of incarceration, incidences of rape and sexual misconduct, police murder, violence against black women, especially trans women and deportation of immigrant women across the country, especially those whose deportation may cost them their lives and safety
Demand 3: End the threat against the human right to healthcare and increase access, including reproductive healthcare, bar none!
Demand 4: Ensure economic justice for low-income women at the communal and federal level, many of whom are at increased risk of violence due to lack of economic power.
For more information on March for Black Women San Diego click here.