Tucson, Arizona, November 6, 2014
On November 14, 2014, 5:30 to 7:00 p.m., at Las Abuelitas (440 E. 26thStreet, Tucson, Arizona 85713) The Primavera Foundation and The University of Arizona Press will present a celebration of the resilience of the Tucson community and the release of local author Aurelie Sheehan's new book Demigods on Speedway.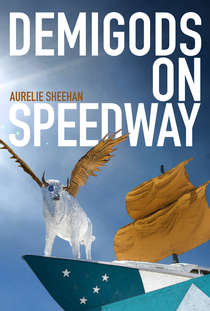 In support of the Primavera Foundation, the event will feature remarks from Mayor Jonathan Rothschild and Primavera Chief Executive Officer Peggy Hutchison, a reading by Sheehan, live music and refreshments. The event is free and open to the public.
In Demigods on Speedway, Sheehan explores issues facing Tucson—poverty, racism, and the vacuum created by neglect of the young. Through characters constructed with a sense of delicacy and complexity, Sheehan presents a nuanced and diverse community, defined by human perseverance in the face of a steep economic divide.
"We are excited to celebrate the Tucson community with Aurelie and the University of Arizona Press," said JoAnn Salazar, Chief Philanthropy Officer at the Primavera Foundation. "Our work to end poverty in Tucson is just one dimension of a broader community movement—that includes writers and artists—to create a healthy, thriving Tucson for all."
About Aurelie Sheehan
Aurelie Sheehan is the author of two novels, The Anxiety of Everyday Objects and History Lesson for Girls (Viking Penguin), and two short story collections, most recently Jewelry Box: A Collection of Histories. She has received the Pushcart Prize, a Camargo Foundation Fellowship, and the Jack Kerouac Literary Award, and her short fiction has appeared in Conjunctions, Fence, The Mississippi Review, New England Review, Ploughshares, and The Southern Review. She teaches fiction at the University of Arizona.