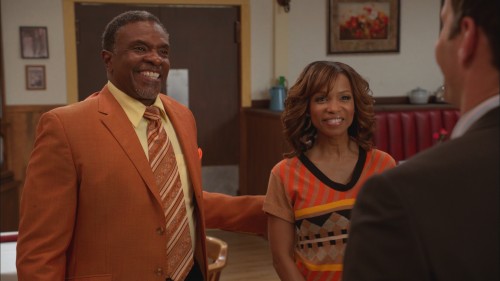 Friends and colleagues affectionately describe actress Elise Neal as "beyond lovely."  Best known for her roles as D.L. Hughley's wife, Yvonne, on the hit show "The Hughley's," or as Anthony Anderson's wife, Yevette, in the Academy Award nominated film, "Hustle and Flow."  It's obvious that Neal has made quite a name for herself as a leading lady in Black Hollywood.
Next up, the lovely and talented beauty stars as single mother Jil, and yes, that's Jil with one L, in her latest role on TV-One's new sitcom "Belle's," a comedy centered on a family-run upscale soul food restaurant.  The Memphis native openly talks with The Chocolate Voice about her latest role in "Belle's", and so much more.
—————————————————————————————————————————————————-
You're working with a great group of accomplished actors on "Belle's", how is that? It's been really, really great!  I completely love our cast. I've worked with Keith David, who plays my Dad on many different mediums.  We worked together on "The Cape" and "The Undershepard," so having Keith play my dad was awesome for me. He likes to sing, and do silly things like that in between takes, and me being a singer-performer, it was always a lot of fun.
So, you're From Memphis?  Born and raised.  I'm huge, huge basketball fan of the Memphis Grizzlies!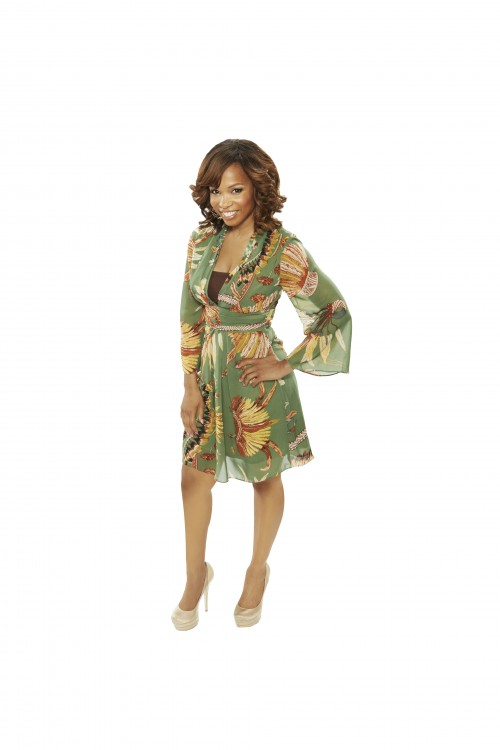 How were you able to transition from your Memphis Southern roots to New York, and then Los Angeles?  How do the lifestyles differ?   Well, for me it's not really a transition.  I'm a performer who definitely had a stronger southern accent growing up, but when I began studying at The Academy of Dramatic Arts, I had to take a vocal elective which is where I lost a lot of my accent, through vocal training and performing in musicals all over the world. I knew I couldn't talk this (Neal goes into her southern accent) if I was going to become internationally known. Now, my accent only comes out when I'm tired.
Would you say that your upbringing in Tennessee has helped to shape you into different characters more easily? No. (Laughs) I don't think my upbringing had anything to do with the characters.  All of my roles are pretty much regional.  I do a lot of studying and a lot of prep.  I'm not one who says, 'Oh I want to be an actor' but then doesn't do the legwork. But, I will say that being a southern belle who was raised right by my parents has taken me a long way in the life lessons of being an actor— treating people correctly on set, being nice to everyone and not getting my head above water.
I loved you in "Hustle and Flow."  Thank-you!  It was easy to fall into when I pretty much marketed the role after members of my family but I won't tell who. (Laughs)
Black Actresses in lead roles are currently on fire in primetime television with shows like, "Scandal," on which you had a guest spot, and "Deception." What's your take on this sudden explosion? Do you feel like that's an explosion, because you only named two black women that are in lead roles in primetime? We need to not get ahead of ourselves as a group of black actors and forget that it's only two.  As for my guest spot in "Scandal" I was a crazily trending topic. I guess a lot of people like seeing me play a bad girl, which I don't get to play too often, so that was really fun.
Your latest venture, the new TV-One series "Belle's" depicts a soul food restaurant that is very reminiscent of your own Southern roots.  In what way does the show remind you of your past in Tennessee? It's a family element that we're trying to bring to our audience and it reminds me of home. Belle's is a family run business where my character, Jil plays a single mother trying to make a means for her daughter and live on the legacy of a restaurant that was started by her Mom and Dad.  Now that her Mom has passed on, which was really the correlation to me, with my mom being passed on, you're trying to move forward and make a striving business, something me, my dad (Keith David), crazy Aunt Loreta, played by my bestie, Tami Roman and Glady's (Ella Joyce) are trying to do.  People are going to really enjoy and love this show!
You say that Jil is different from any role you've ever played, how so?  One of the things that drew me to the role was that I embraced and enjoyed not playing the wife or the girlfriend.  I have a lot layers and I felt like last year I was able to showcase more with my role on "Scandal," and I have a craaazy episode of "The Real Husbands Of Hollywood" coming up.  With this role, playing the manager of the restaurant and being a single mom are different layers for a character, more than I've played before.
What is your favorite soul food dish? I have a lot of them, but I make a mean fried chicken.  I don't eat it all the time, but when the time comes, I can turn it out. (Laughs)
Are your going to be watching the Super Bowl?   Now, you see that's football, I like all sports, but I lean more towards basketball.  I probably will watch because I like the commercials.  
Catch Elise on TV One's "Belle's" Premiering this Friday, Feb. 1st with back-to-back episodes starting at 10:00 pm ET.