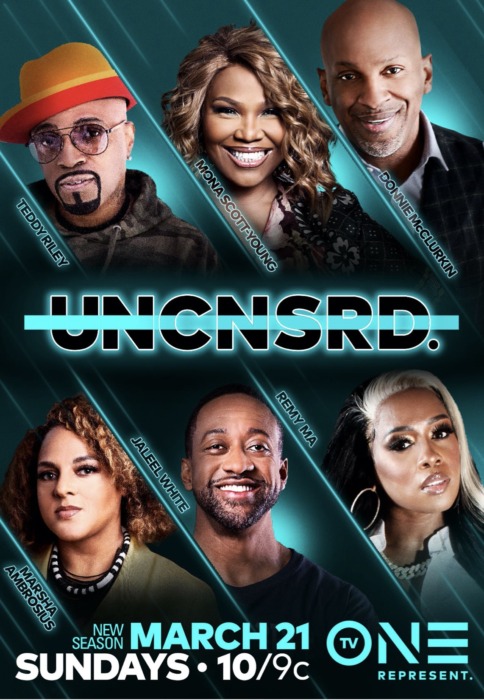 (SILVER SPRING, MD)February 24, 2021 – TV One announced the spring lineup of its original, critically-acclaimed autobiographical series UNCENSORED, with all-new episodes premiering on Sunday, March 21 at 10 p.m. ET/9C. UNCENSORED, explores the lives of your favorite personalities as they provide first-hand accounts of their success, and obstacles they've faced throughout their careers.
This season profiles Teddy Riley, Marsha Ambrosius, Donnie McClurkin, Kem, Remy Ma, Mona Scott Young, Lisa Leslie, and Jaleel White. Airdates of TV One's upcoming new episodes of UNCENSORED are detailed below:

Teddy Riley premieres Sunday, March 21 at 10pm ET/9cMona Scott-Young premieres Sunday, March 28 at 10pm ET/9cDonnie McClurkin premieres Sunday, April 4 at 10pm ET/9cKem premieres Sunday, April 11 at 10pm ET/9cRemy Ma premieres Sunday, April 18 at 10pm ET/9cMarsha Ambrosius premieres Sunday, April 25 at 10pm ET/9cLisa Leslie premieres Sunday, May 2 at 10pm ET/9cJaleel White premieres Sunday, May 9 at 10pm ET/9c.
Click HERE to watch trailer.

UNCENSORED is produced for TV One by Eric Tomosunas, Keith Neal, James Seppelfrick and Paul Hall (Executive Producers), Jay Allen (Co-Executive Producer), and Nikki Byles (Producer) of Swirl Films. For TV One, Jason Ryan is Executive in Charge of Production; Donyell Kennedy-McCullough is Senior Director of Talent & Casting; and Robyn Greene Arrington is Vice President of Original Programming and Production.