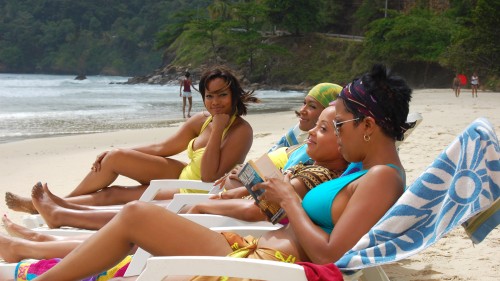 TV One will present the network premiere of the two-hour original movie, Girlfriends' Getaway on Saturday, August 30at8PM/ET with an encore at 11PM/ET and at 11AM/ET on Sunday, August 31st. Shot entirely on location in Trinidad, the comedy tells the story of an innocent birthday getaway taken by four longtime friends that turns into a life changing adventure. Garcelle Beauvais (The Jamie Foxx Show) stars as Vicki Holmes with co-stars Terri J. Vaughn (Meet The Browns) as Sophie, Malinda Williams (Soul Food) as Camille and Essence Atkins (A Haunted House 2) playing Lauren.
Vicky Holmes (Beauvais), a sophisticated, successful business owner is outwardly hitting a stride in love and life. However, just days before a romantic birthday trip, she is blindsided by her boyfriend's decision to relocate and end their relationship. Vicky ultimately decides to bring her best girlfriends – who are all facing turning points in their lives – with her for a grown girls getaway in Trinidad. After their first wild night, an innocent mistake sets blaze to a chain of events that would forever change each of their lives. When the very pregnant Sophie (Vaughn) is kidnapped and held for $10,000 ransom, the remaining girls have 24-hours to ban together in order to get Sophie back safely or end up in jail.
Girlfriends' Getaway is directed by former Tyler Perry Studios EVP, Roger M. Bobb (Raising Izzie, For Colored Girls, The Rickey Smiley Show). Bobb serves as the film's Executive Producer with Angi Bones serving as Producer. The film was written by Cas Sigers-Beedles and is a co-production between Bobbcat Films and Siger's and Vaughn's Nina Holiday Entertainment.