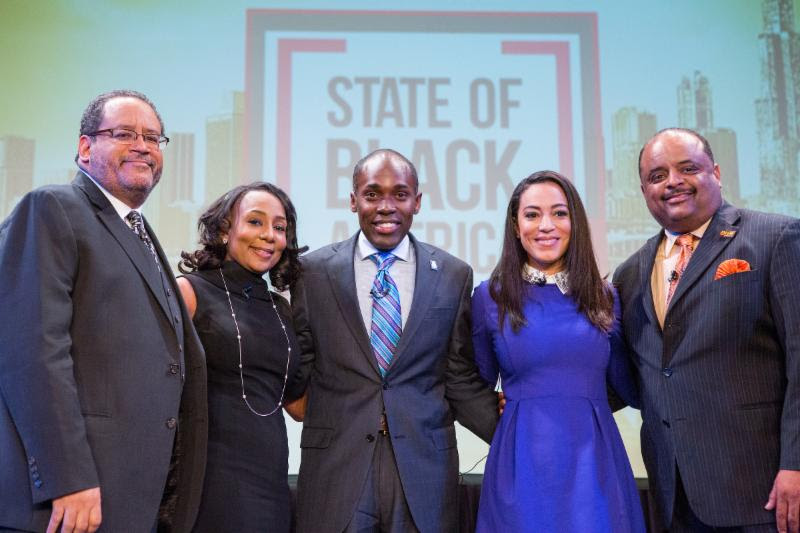 (Left to Right) Panelists from 2017's The State of Black America Town Hall taping presented by TV One and the National Urban League: Dr. Michael Eric Dyson, Georgetown University Professor and Author; Angela Sailor, Former Director, RNC's Coalition Department; Paris Dennard, GOP Commentator; Angela Rye, Political Commentator and Analyst; and Moderator Roland Martin, Managing Editor and Host of News One Now.(Photo Credit: Allison Shelley, Courtesy of TV One)
TV One's award-winning journalist and news personality Roland Martin, TV One and the National Urban League have joined forces to produce the groundbreaking news special, 2018 STATE OF BLACK AMERICA TOWN HALL for the second year. Slated for a taping on Tuesday, May 8 at the famed Howard Theatre in Washington, DC, the town will examine the National Urban League's annual State of Black America report, which reveals current conditions facing the African American community. It is one of the most highly anticipated benchmarks and sources for thought leadership around racial equality in America across economics (including employment, income and housing), education, health, social justice and civic engagement.
Washington DC's Famed Howard Theatre Features NUL President Marc Morial, Attorney Benjamin Crump, Kimberly Bryant, Damon Young, Jason Towns, Linda Goler Blount and More.
Taped to air as a two-hour special on TV One on Sunday, July 29, 2018 at 8pm/7c, the town hall brings together some of our nation's greatest thought leaders, journalists and public figures for a powerful and honest dialogue on what the latest report reveals about the future of urban America and the Black community.