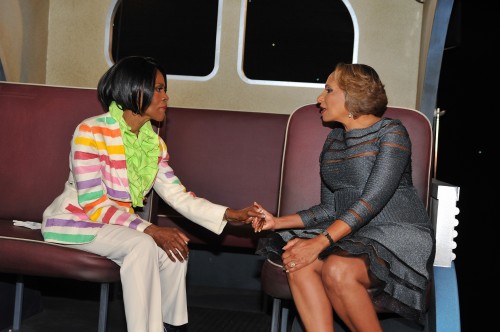 — Radio One Founder and Chairperson Cathy Hughes Goes Behind the Scenes and Interviews the All-Star Cast, Including Tony Award Winner Cicely Tyson —
(SILVER SPRING, MD) TV One is taking viewers behind the scenes and on-set of the critically acclaimed Broadway revival of A Trip to Bountiful in an all-new special, TV One Takes the Trip to Bountiful with Cathy Hughes. From the Sondheim Theatre on Broadway, Ms. Hughes, founder and chairperson of Radio One, discusses the emotional and unforgettable show and interviews the all-star cast that includes Cicely Tyson, Cuba Gooding Jr. and Vanessa Williams. The special is slated to premiere on Thursday, July 25 at 8 p.m. ET.
"Since the early days of Radio One, it has been our commitment to bring the Black community smart, innovative programming that is both educational and entertaining," remarked Ms. Hughes. "This behind the scenes look at A Trip to Bountiful not only supports this wonderful production, further exposes the TV One viewing audience to profound Black theater and storytelling."
The Trip to Bountiful was nominated for four prestigious Tony Awards at the 2013 ceremony, including "Best Revival of a Play." Actress Cicely Tyson won the award for "Best Performance by an Actress in a Leading Role in a Play." Other nominations included "Best Sound Design of a Play" and "Best Performance by an Actress in a Featured Role in a Play" for Condola Rashad.
ABOUT CATHY HUGHES:
Cathy Hughes is the Founder and Chairperson of Radio One, Inc., one of the largest African American owned and operated broadcast companies in the nation, currently owning and/or operating 55 broadcast stations located in 16 urban markets in the United States. Radio One (http://www.radio-one.com/) is the parent corporation of TV One (http://www.tvoneonline.com/), a partnership with Comcast, and through its controlling interest in Reach Media, Inc. (http://www.blackamericaweb.com/), the Company also operates syndicated programming including the Tom Joyner Morning Show, the Russ Parr Morning Show, the Yolanda Adams Morning Show, the Rickey Smiley Morning Show, Bishop T.D. Jakes' "Empowering Moments", and the Reverend Al Sharpton Show. Beyond its core radio broadcasting franchise, Radio One owns Interactive One (http://www.interactiveone.com/), an online platform serving the African-American community through social content, news, information, and entertainment. Interactive One operates a number of branded sites, including News One, UrbanDaily, HelloBeautiful and social networking websites, including BlackPlanet, MiGente, and Asian Avenue. Radio One is also the first African American company in radio history to dominate several major markets simultaneously and possesses the first woman-owned radio station to rank #1 in any major market.