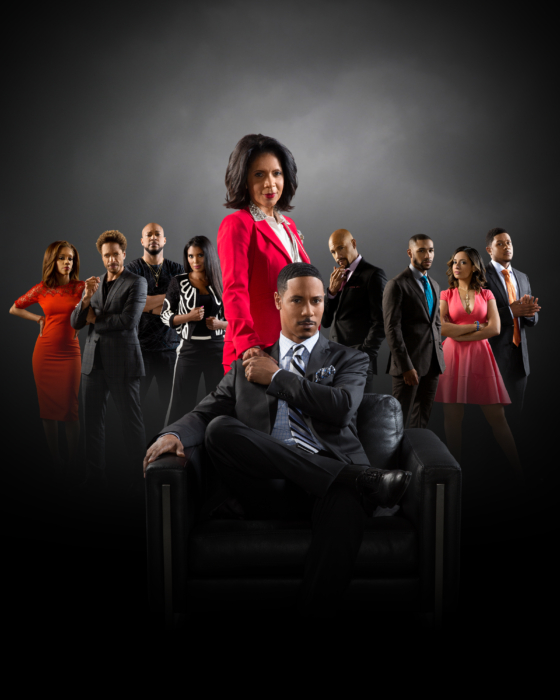 In TV-One's latest film MEDIA, competition, power struggles, passion and unity are all themes that encompass the core of the networks made for T.V. film.
Essentially, in the upcoming original drama, viewers can expect to see a great storyline filled with intriguing characters, played richly by talented actors, who delve into the competitive world of the media business–while battling the challenges of keeping their status in the industry.
Conceived and executive produced by iconic media pioneer Cathy Hughes and her production partner Susan Banks, the urban film dives into the intriguing lives of a powerful black family running a successful media and communications business.
The film centers around matriarch Jackie Jones and her children in this competitive, riveting production. Portrayed by Penny Johnson Jerald (Castle, 24), Jackie is the founder of Jones Universal Media Properties, known as JUMP, the world's premier urban media conglomerate. When an untimely family tragedy occurs,  Jackie's son, prominent lead city attorney and prosecutor Michael Jones, played by Brian White (Scandal, Chicago Fire, Stomp the Yard), is forced to abandon his political aspirations and take over the company just as a ruthless rival challenges JUMP's longtime domination of this lucrative industry.
In a media teleconference, The Chocolate Voice was on a call with the cast and creative team of the powerful new film to learn more about the film.
Executive Producer, D'Angela Proctor shares her thoughts on the inspiration behind the film…
"MEDIA is definitely Ms. Hughes baby.  She wanted to dive into the world that she had been working in throughout her adult career. Not only to focus on the radio business but to explore other avenues of media—billboards, magazines, radio and the television business. Media is not monolithic. It's not just film and T.V. It covers many modes of transporting content."
Proctor admits to being intrigued by all of the great stories that Hughes had, that could be used as a base to fictionalize.  Going forward, it was the job of the creative team to make the stories bigger, adding more stakes and emphasis.
Penny Johnson Jerald, who plays Jackie Jones said…
"I want the viewers to see the great Jackie Jones, as a strong powerful woman who transcends the ethnicity of  being a Black woman. Not only is she strong, she's family oriented. We're not your typical family that people would like to believe we are as black people." 
Johnson Jerald emphasizes the importance in showcasing the unity and strength of this family on television. She also says that she's inspired by Hughes, who is the foundation behind her character, and in particular how she came up with Radio One and how the word one stood out,
"It only takes one idea, one director, one script and all of that together creates something fantastic," the actress said.
Brian White who stars as Michael Jones, says that he's happy to be apart of the film that shines the light on black owned media companies, owned by the matriarch.
White says that throughout his life, he was raised by a successful single mother and surrounded by successful women, who were his role models. He shared that his maternal grandmother owned 18 mortuaries in Topeka Kansas during the 30's and 40's and 50's. Like Hughes, his grandmother was a black woman who amassed great wealth, by learning the game and playing it better than everybody else.
MEDIA also stars Pooch Hall (The Game, Ray Donovan), Gary Dourdan (Being Mary Jane, CSI, Love Under New Management: The Mikki Howard Story), Chrystee Pharris (Passions, Scrubs), Denise Boutte (Meet the Browns, For the Love of Ruth) and Finesse Mitchell (Saturday Night Live).
The drama is the latest addition to the network's impressive slate of original films and premieres Saturday, Feb. 25 at 8 p.m. ET.