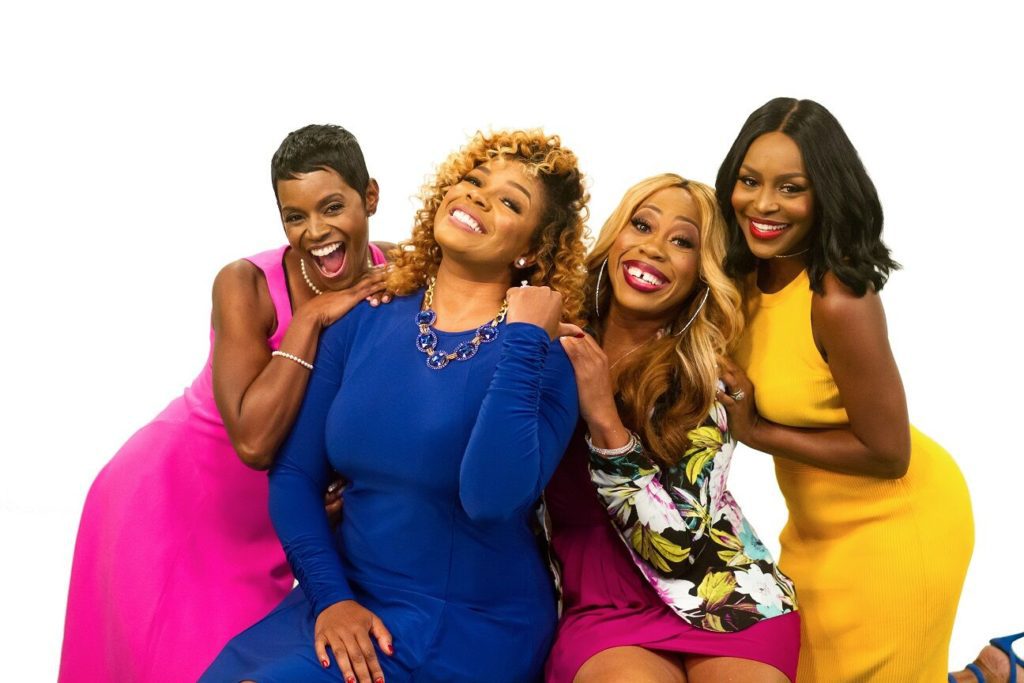 Let's start by giving a huge congrats to TV-One, and the ladies of the groundbreaking "Sister Circle" on becoming the first live day-time talk show featuring a panel of four Black women as co-hosts. Bravo!
Created by Executive Producer Helen Swenson,"Sister Circle" is produced out of TEGNA's WATL in Atlanta.  The show first aired in September of 2017. 
In a recent telemedia conference with TCV, the four ladies and EP discussed the plight to remain relative in the saturated talk show market. The daily morning shows main focus is to inspire, educate and entertain all people from a Black woman's point of view. 
If you've had an opportunity to watch the talk show, you'll find, well rounded Black women impeccably dressed in colorful stylish clothing, praising and encouraging each other with occasional bursts of sayings like "You did that girl," while engaging in a variety of topics that leaves the audience feeling right at home and welcomed into the conversation.  
On the call, Swenson said, what makes the show so amazing is the chemistry between all four women. She adds that it's transparent that they truly connect with one another, a bond that she credits as the "secret sauce" to the shows success.
The shows hosts are: Quad Webb-Lunceford, from the Realty-TV show "Married To Medicine"; Syleena Johnson, a Grammy-award nominated singer and "R&B Divas" TV star; Rashan Ali, TV Host, sports reporter and radio show host; and Kiana Dancie, stand-up comedienne, radio personality, former corporate executive and actress.
Similar in format to other daytime talk shows, "Sister Circle" allows the audience to appreciate the conversation by acknowledging Black culture, as a true culture in all of its complexities, while focusing on a variety of topics such as relationships, parenting, fitness, financial literacy and pop-culture. 
Additionally, what makes the show stand out from the competition, is the hosts share authentically different perspectives, while maintaining a solid bond of sisterhood. 
Johnson, a power-house R&B singer who won a Grammy for her featured vocals for on the Hip-Hop song by Kanye West, "All Falls Down," on the call admitted, that she didn't see talk show host in her cards.
"I wasn't as concise as I thought I was. I wasn't an effective communicator. Being on this show has taught me to be patient."  She adds, "It allows my fans to see me in a different form, as a wife, woman, a mother, a person that's more relatable." 
Johnson also shares that, having a spiritual foundation is very important. Each morning the ladies listen to Gospel music and pray before they go out and talk to millions of people.
Before the show kicks off with trending news topics, the lively roundtable format begins with each host gracefully acknowledging each others presence by allowing for time to share personal stories from the night before. 
Seasoned journalist and radio personality Rashan Ali, acts as the moderator of the circle, says that the show allows her to be all facets of who she is.
"We are  all unique to who we are at this particular moment.  I have equal love and respect for my sisters. This is a team effort, not a united front. We are united."
Quad Webb-Lunceford admits to being polar opposite of how she's portrayed on the reality show "Married to Medicine,"  and her co-hosts agree. She says that the show allows her to show who she is in totality.  
"I am able to be my openly loving self at all times, to uplift my race, and bring awareness to other races."
Comedienne Kiana Dancie (Who's Got Jokes) adds, "Quad is a walking dictionary. Being on the show has allowed her to magnify her greatness."
Dancie, who the ladies all agree brings a combination of balance, energy, heart and humor to the group says, 
"We have an unsaid rule in the Sister Circle, what's left at the table stays at the table. I have no sisters. I had to be comfortable with sharing the spotlight with sisters. I may not be meant for it for I'm built for it."
Yes, ladies!
All of the ladies have creative input in the show. Webb-Lunceford says that seeing that the show draws from their personal lives, it's important to have topics of substance. 
Ali's strength is in her approach to look at things analytically and diplomatically. She talks with the production team about stories that will resonate with viewers.  
Dancie provides input on the daily feed and, Johnson fills in with the interview questions.
"Sister Circle" while addressing a variety of thought provoking topics and featuring, high profile guests including: Will Packer, Matthew Knowles, Kandi Burruss and Pastor John Gray,  just to name a few–the ladies on the show, shows people how to agree to disagree.
The "Sister Circle" provides balance with segments that provide people with information on how to govern their lives," says Johnson. 
Thank you ladies for spreading daily #BlackGirl Magic and #BlackboyJoy.
Sister Circle is a live, daily talk show from TEGNA Inc. (NYSE: TGNA) and TV One broadcast in 12 TEGNA markets
The daytime talk show is a part of TVOne's  daytime programming block airing weekdays from 12 p.m. to 1p.m. ET
Sister Circle is produced out of TEGNA's WATL in Atlanta and reaches 60 percent of U.S. television households