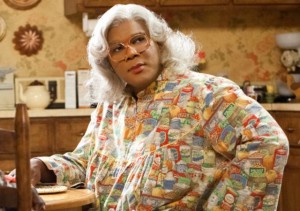 LOS ANGELES, CA (January 19, 2016) – Tyler Perry Studios announced today that they have started production on a new Madea film, Boo! A Madea Halloween, which will be distributed by Lionsgate (NYSE: LGF). The film releases October 21st, 2016. Tyler Perry will write, produce, direct, and star in the latest project with the popular character Madea. Ozzie Areu and Will Areu will also be producers on the film. The film's origins date back to when Perry and Chris Rock conspired to include a fictitious Madea Halloween movie in Rock's film Top Five. Lionsgate then approached Perry and suggested that they make the movie for real.
In Boo! A Madea Halloween, Madea winds up in the middle of mayhem when she spends a hilarious, haunted Halloween fending off killers, paranormal poltergeists, ghosts, ghouls, and zombies while keeping a watchful eye on a group of misbehaving teens.
Perry will play the roles of "Madea," in addition to the roles of "Joe" and "Brian." The film will also star Bella Thorne as "Rain," Cassi Davis as "Aunt Bam," Patrice Lovely as "Hattie," Andre Hall as "Quinton," Yousef Erakat as "Jonathan," Lexy Panterra as "Leah," Diamond White as "Tiffany," Liza Koshy as "Aday," Brock O'Hurn as "Horse," Jimmy Tatro as "Sean," JC Caylen as "Mikey," Kian Lawley as "Bean Boy," and Mike Tornabene as "Dino."
Production is under way in Atlanta.
About TPS
Tyler Perry Studios (TPS) was formed by actor and filmmaker Tyler Perry in the fall of 2008. The studio develops and produces motion picture films, in addition to drama and comedy television programming for the multi-platform U.S. television market. The 200,000 square foot studio lot is situated on the former Delta Airlines campus of more than 30 acres in the Greenbriar area of southwest Atlanta. The studio consists of five sound stages, a post production facility, a pond, a back lot, a 400-seat theater, a private screening room, and designated areas for entertaining and hosting events. Since its opening, Perry and the studio's 400 Atlanta-based employees have been hard at work in production of over fifteen films and five television series, with over 90 total episodes per year. In 2015 TPS announced plans to expand operations with the acquisition of Fort McPherson, adding another 330 acres to create another major movie production studio lot.