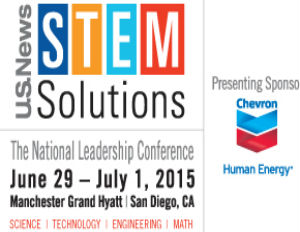 U.S. News & World Report is holding fifth annual STEM Solutions conference in San Diego from June 29 to July 1 at the Manchester Grand Hyatt. The event will bring together more than 1,500 educators, government and workforce officials and business leaders from around the country and will feature panels and workshops breakout sessions that will explore how to produce more workers with the needed skills for today's fast paced technological economy.
A key focus of this year's conference will be the ongoing need to increase the ranks of women and minorities in STEM occupations.
In an interview with Black Enterprise Magazine, Brian Kelly, editor and chief content officer at U.S. News & World report discussed why the STEM Solutions Conference was started. "The STEM Solutions conference is designed to be a leadership forum.  We think of STEM as an industry without any real structure to it. There are so many people interested in STEM and pursuing it from an education standpoint and a job standpoint, but there wasn't any one real gathering place for all those folks?
Note: Tech giant Google recently released a survey of its 50,000 employees worldwide and the results were alarming. Some 70 percent of its employees are men. Of its U.S. employees, 61 percent are white, 30 percent are Asian, 3 percent are Hispanic and 2 percent are black.
To address that issue, the conference will have a keynote session on "Closing the Tech Diversity Gap," featuring such tech firms as Intel and Cisco, as well as panels on "Progress on the Gender Front" and "Focus on Minority Males."
Kelly mentioned Boys and Girls Clubs of America, the Girl Scouts, Project Lead the Way, National Math and Science Initiative—just a few of the programs that are working to help solve the STEM crisis. This year's theme, diversity in STEM, is an important issue in communities of color, which are typically economically and academically underserved; the theme also addresses the issue of women in STEM.
To register or to get more information about the STEM Solutions Conference, go tohttp://usnewsstemsolutions.com/.