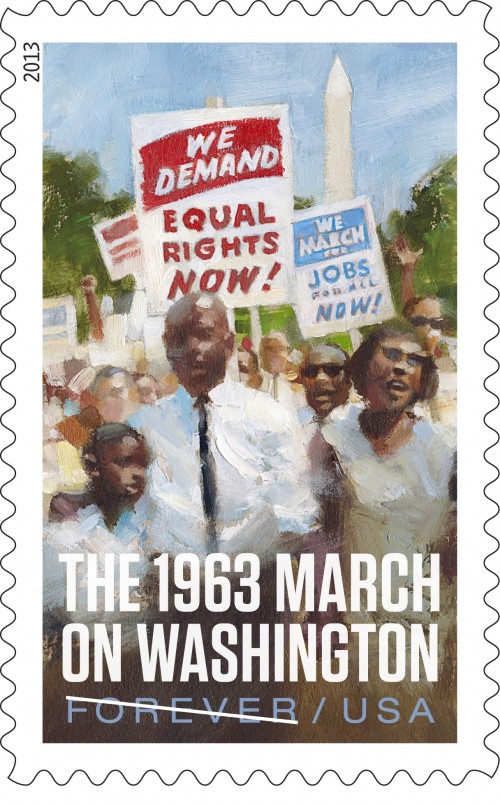 On Friday, August 23, 2013, the US Postal Service (USPS), with the help of Georgia Representative John Lewis (D) and Actress Gabrielle Union, unveiled its' "1963 March on Washington,"Forever® stamp at the Newseum in Washington, DC.   The limited-edition commemorative stamp observing the march's 50th Anniversary is the last in a trio, joining the "Rosa Parks" and the "150th Anniversary of the Emancipation Proclamation" versions that debuted earlier this year.
Rep. John Lewis (D-GA), the last surviving speaker at the March, joined The Leadership Conference on Civil and Human Rights and The Leadership Conference Education Fund President and CEO Wade Henderson; U.S. District Judge Alexander Williams, Jr.; Deputy Postmaster General Ronald A. Stroman
and Union to officially dedicate the stamp and underscore the importance of this historic event.
The 1963 March on Washington stamp is the last of three stamps issued this year as part of a civil rights series commemorating courage, strength and equality in America. The first Forever stamp marked the 150th anniversary of the Emancipation Proclamation in January, while the second Forever stamp honored Rosa Parks on the 100th anniversary of her birth in February.
Additionally, tennis icon Althea Gibson's commemorative stamp went on sale August 23 as part of the United States Postal Service's Black Heritage Series.  The release of the stamp also comes on the anniversary of Gibson's debut at the U.S. Open in 1950 and recognizes Althea Gibson as the first African American, male or female, to win a Grand Slam.