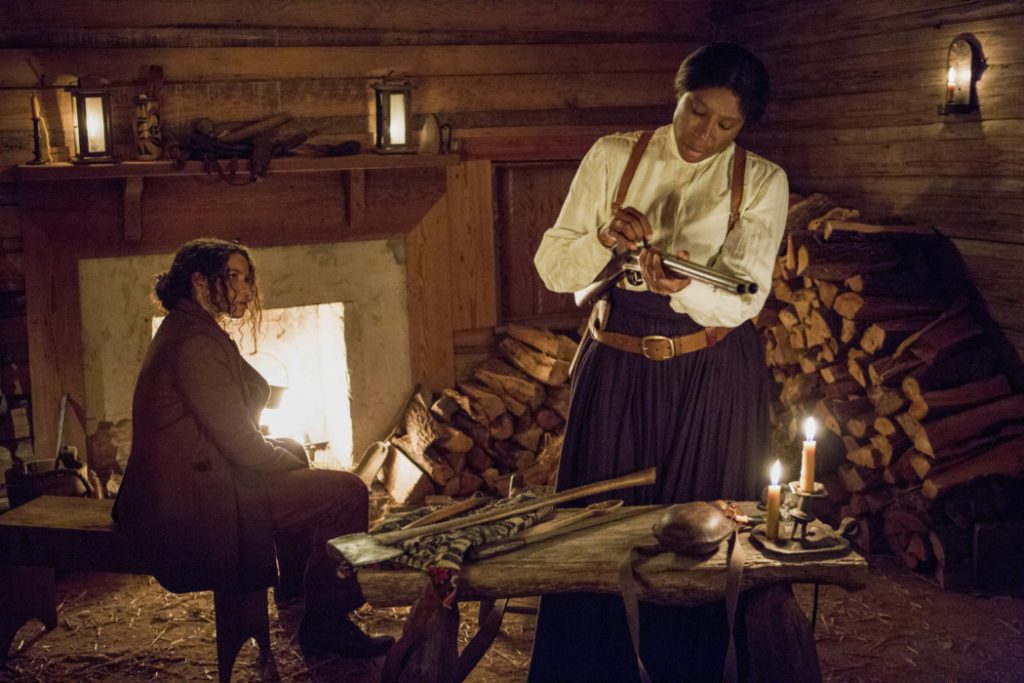 Pictured:  Jurnee Smollett as Rosalie and Aisha Hinds as Harriet Tubman
Hold on tight! After watching WGN America's full length trailer and first-look unit photography from the highly anticipated second season of  "Underground" which returns Wednesday March 8, 2017 at 10:00 p.m. ET/PT with 10 hour-long episodes, you're in for the ride of a lifetime.
The critically acclaimed hit original series will continue to follow an unremitting struggle for freedom within a divided America on the brink of civil war in season two.  Set in the aftermath of the Macon 7's daring attempt to stage the greatest escape in history, this group of American heroes continues on their harrowing journey to freedom, with legendary abolitionist Harriet Tubman blazing the trail. 
Joining the cast in season two as recurring guest stars are: Aisha Hinds ("Under the Dome," "True Blood," Star Trek Into Darkness) in the pioneering role of Harriet Tubman, the Underground Railroad's most famous conductor revered for her grit, perseverance and unrelenting will to help scores of enslaved people reach their freedom; Bokeem Woodbine ("Fargo," the upcoming Spider-Man: Homecoming, Total Recall) as Daniel, a skilled stonemason, who has decided to take freedom into his own hands.  Jasika Nicole ("Fringe," "Scandal") as Georgia, an abolitionist with a covert station along the Underground whose quiet confidence hides secrets of her own; DeWanda Wise ("Shots Fired") as Clara, a preacher's daughter from an enslaved community; Michael Trotter ("Rosewood") as Biographer, an astute observer of people often fearful of taking chances, who lives through the lives of others; Jesse Luken ("Justified," 42) as Smoke, the fearless second in command of Patty Cannon's infamous gang of slave catchers; Sadie Stratton ("Code Black," "Boy Meets World") as Patty Cannon, and Academy Award® and Golden Globe® winner and ten-time Grammy Award® winning singer-songwriter John Legend as renowned abolitionist Frederick Douglass.
Season 2 of "Underground" is not to be missed.  We'll be watching.  Will you? Check out the trailer below.
https://youtube.com/watch?v=O-ofsO8DX6Y