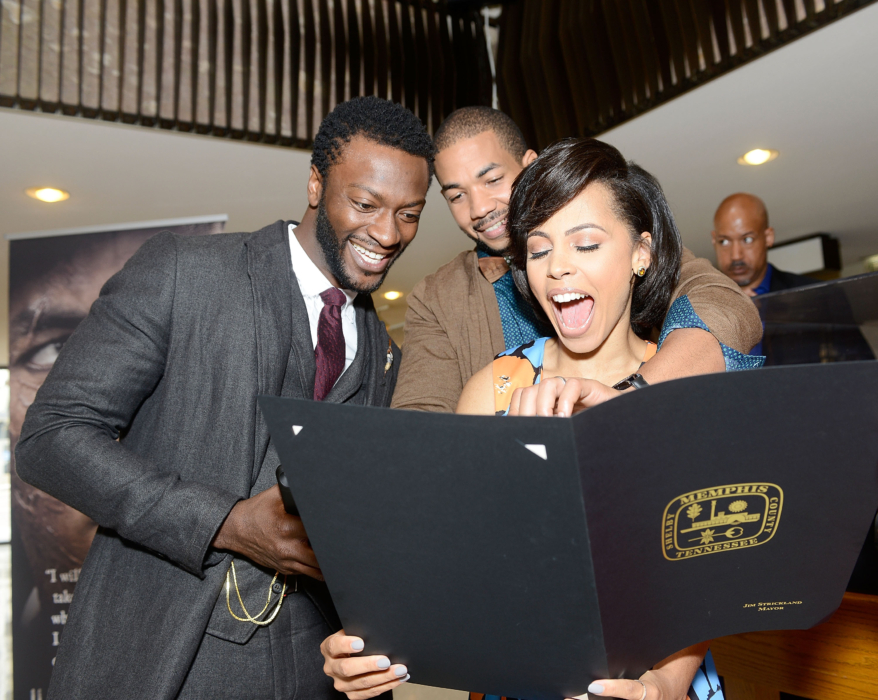 Memphis, May 11, 2016 – WGN America's Underground Railroad escape thriller "Underground," among the most critically acclaimed series of the year and the network's highest-performing original series ever, was honored yesterday by the City of Memphis at City Hall as Mayor Jim Strickland officially declared Tuesday, May 10 "Underground Day," kicking off day-long celebrations throughout the city, including a "Memphis Fan Appreciation" event with the stars of "Underground" – Aldis Hodge, Alano Miller and Amirah Vann – at the National Civil Rights Museum.   Memphis is the highest-rated local market for the hit series throughout its run, delivering +302% above the average metered market in Live+3 ratings.  Nationally, "Underground" draws 3 million Total Viewers on Wednesday night's season-to-date in Live + 7 delivery.
Hundreds of fans at the National Civil Rights Museum were treated to a sneak-peek of the highly anticipated "Underground" finale, airing tonight, at 10:00 p.m. ET/PT, followed by a Q&A with the stars moderated by Dr.
Noelle Trent, the Museum's Director of Interpretation, Collections and Education.  The star-studded event was capped off by a meet-and-greet with enthusiastic fans.  Earlier in the day, the cast visited a local Memphis school, surprising students with "Underground" gear.
The festivities are a homecoming for "Underground," which kicked off its season one awareness campaign in Memphis last October with an exclusive screening and panel event at the National Civil Rights Museum.  The original series has since been lauded across the country at screenings, panels and appearances including a special presentation at The White House during Black History Month.
WGN America's standout series "Underground," produced by Sony Pictures Television and Tribune Studios, was recently renewed for a second season.  Production on season two will begin this summer for a 2017 premiere.
We can't wait for season two!  Tell us your thoughts on Season one?