The first in-prison program supported by Union Bank will train inmates to develop entrepreneurial and job skills 
SAN DIEGO, CA – As part of its ongoing commitment to support the San Diego community, The MUFG Union Bank Foundation donated $50,000 to non-profit Defy Ventures to bring its highly successful "CEO of Your New Life" (CEO YNL) program to the Richard J. Donovan Correctional Facility.  Recently launched with a kickoff event for volunteers and more than 50 inmates, the program "transforms the hustle" of currently and formerly incarcerated individuals called Entrepreneurs-in-Training (EITs) by offering intensive leadership development, "Shark Tank"-style business plan competitions, executive mentoring, financial investment, and startup incubation.
The MUFG Union Bank Foundation donation of $50,000 was matched by donations from individual investors, many of them from the local venture capital community including tech entrepreneur Neil Senturia. Mr. Senturia is a strong advocate of the program and played a key role in bringing it to San Diego with Union Bank.
With strong post-release services, including employment placement, Defy graduates boast a 95 percent employment rate and a three percent recidivism rate. In the past three years, Defy has financed and incubated 150 of its graduates' companies that created 350 employment opportunities. Defy also has significant focus on developing leadership qualities that with proper application can lead to successful entrepreneurship.
"We selected Defy Ventures for our first in-prison program donation because of its focus on entrepreneurship, high success rate and innovative programming," said Kathy Patoff, Chief Operating Officer, MUFG Union Bank Foundation.  "We wanted to make a commitment to bringing something life-changing, powerful, successful and new to San Diego. As a volunteer, I experienced first-hand how Defy is teaching skills change individual lives, stabilize families, and impact communities."
Led and developed by Catherine Hoke, a former venture capitalist and private equity fund director, Defy recognizes that many former drug dealers and gang leaders can become successful, legal entrepreneurs. Defy gives EITs a legitimate chance to succeed and equips them to become profitable entrepreneurs, stellar employees, engaged parents, and committed role models and leaders in their communities.
"We are not just about business at Defy," said Catherine Hoke, founder and CEO, Defy Ventures. "We are about transforming lives. We intentionally build life-giving and authentic community between EITs and executive volunteers to upend preconceived ideas on both sides. We thank Union Bank for helping us bring our program to Donovan State Prison to help these individuals, many of whom entered prison at age 18, re-enter society as successful people."
Bringing the EITs literally face-to-face with the business community and breaking down barriers is only part of the program. The inmates follow a curriculum incorporating more than 100 DVD courses, taught by Harvard and Stanford professors; formerly incarcerated role models; VCs; and top job placement, character, and personal development experts. EITs who complete the program and pass a final exam receive a Certificate in Career Readiness from Baylor University's prestigious Hankamer School of Business MBA program. Upon release, EITs are encouraged to join Defy's employment program and entrepreneurship incubator to further develop their business plans and continue their training and personal development.
With more than 3,500 business executive volunteers serving as startup coaches, judges, and mentors, Defy's record of success has earned the organization the trust of funders like Google, Bloomberg, LinkedIn, and Yelp.
Defy plans to serve 10,000 incarcerated people in the next three years.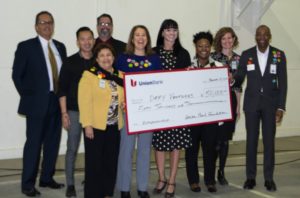 About Defy Ventures
Defy Ventures "transforms the hustle" of people with criminal histories (both inside and outside of prisons nationally). Think of Defy like Khan Academy merged with Y Combinator for people with criminal histories. Defy recognizes the entrepreneurial nature of drug dealers and gang leaders. They equip proven street hustlers to go legit by providing entrepreneurship training, employment preparation, character development, "Shark Tank"-style pitch competitions, startup incubation, and executive mentorship.
About MUFG Union Bank, N.A.
MUFG Union Bank, N.A., is a full-service bank with offices across the United States.  We provide a wide spectrum of corporate, commercial and retail banking and wealth management solutions to meet the needs of customers.  We also offer an extensive portfolio of value-added solutions for customers, including investment banking, personal and corporate trust, global custody, transaction banking, capital markets, and other services.  With assets of $115.6 billion, as of December 31, 2016, MUFG Union Bank has strong capital reserves, credit ratings and capital ratios relative to peer banks.  MUFG Union Bank is a proud member of the Mitsubishi UFJ Financial Group (NYSE: MTU), one of the world's largest financial organizations with total assets of approximately ¥302.1 trillion (JPY) or $2.6 trillion (USD)¹, as of December 31, 2016. The corporate headquarters (principal executive office) for MUFG Americas Holdings Corporation, which is the financial holding company and MUFG Union Bank, is in New York City. The mai