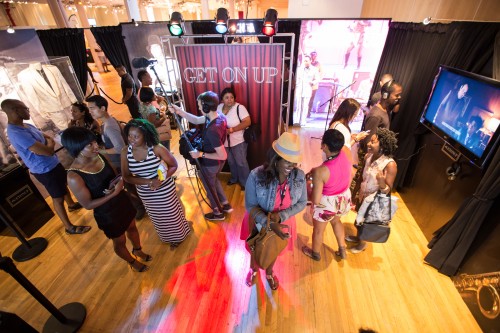 (Universal City, CA) Via press release Universal Pictures announced  the launch of the Get on Up Tour, an authentic and immersive storytelling experience crossing the country in anticipation of the studio's upcoming James Brown biopic, Get on Up. Beginning on Friday, June 20, fans can "Get Up," "Get Down" and "Get on the Good Foot," throughout the United States this summer in anticipation of the new film that arrives in theaters on August 1, 2014.
The Get on Up Tour is brought to life through an experience designed to inspire fans, as well as educate a new generation about James Brown's influence on popular culture by leveraging powerful visuals from the film and showcasing iconic images and memorabilia.
"Our goal with the Get on Up Tour is to entertain audiences who were directly influenced by James Brown's life, as well as to demonstrate to a new generation just how impactful he was, and remains, to modern culture," said Talitha Watkins, vice president of multicultural marketing, Universal Pictures. "We want to engage fans in a way that authentically honors his legacy while bringing the fun and funk that he brought to global audiences."
The visuals on the Get on Up Tour will bring visitors into an experience with exciting elements and activities, including a place where attendees can record their best James Brown impersonation, a dance area that casts colorful shadows as guests show off their moves and a vinyl record tribute wall that prompts fans to capture how James Brown inspired them.
The tour will also feature a viewing area where attendees can watch clips from the upcoming release of Get on Up, as well as immerse themselves in outtakes and behind-the-scenes footage with the cast from the film's production set. Additionally, fans can join the never-ending groove of "Can't Stop the Funk" (www.cantstopthefunk.com) by recording their moves and uploading them to a site, where they will be featured in a tribute to James Brown.
The Get on Up Tour kicks off in New York City at the American Black Film Festival June 20-22 and travels to the Essence Festival for its 20th anniversary celebration in New Orleans on July 3-6. The tour will return to New York on July 18.
About Get on Up
In his follow-up to the four-time Academy Award®-nominated blockbuster The Help, Tate Taylor directs 42's Chadwick Boseman as James Brown in Get on Up.  Based on the incredible life story of the Godfather of Soul, the film will give a fearless look inside the music, moves and moods of Brown, taking audiences on the journey from his impoverished childhood to his evolution into one of the most influential figures of the 20th century. Boseman is joined in the drama by Nelsan Ellis, Dan Aykroyd, Viola Davis, Craig Robinson, Octavia Spencer, Lennie James, Tika Sumpter and Jill Scott.
Academy Award® winner Brian Grazer (A Beautiful Mind, 8 Mile) produces for Imagine Entertainment, with Mick Jagger and Victoria Pearman (Shine a Light) producing under their Jagged Films banner.  Imagine's Erica Huggins (Flightplan) also serves as a producer on Get on Up, while Taylor produces under his Wyolah Films label.  Peter Afterman, Trish Hofmann, Jez Butterworth, John Butterworth, John Norris and Anna Culp serve as executive producers. www.getonupmovie.com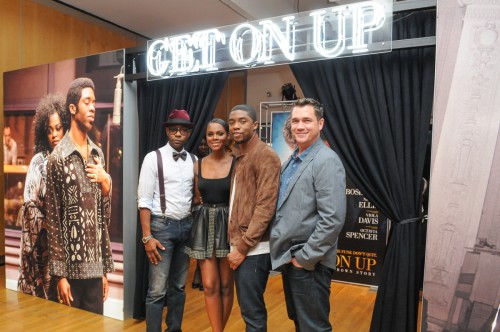 The cast of GET ON UP and other celebrities received an exclusive look at Universal's GET ON UP tour experience this past weekend at the American Black Film Festival. Celebrities in attendance participated in the tour by giving their own impersonation of the God Father of Soul and signing a vinyl record wall where they left impactful notes on how James Brown influenced their life. After debuting at ABFF, the GET ON UP tour will travel to New Orleans for Essence Fest's 20 Year Anniversary on July 3-6, before returning to New York City on July 18.