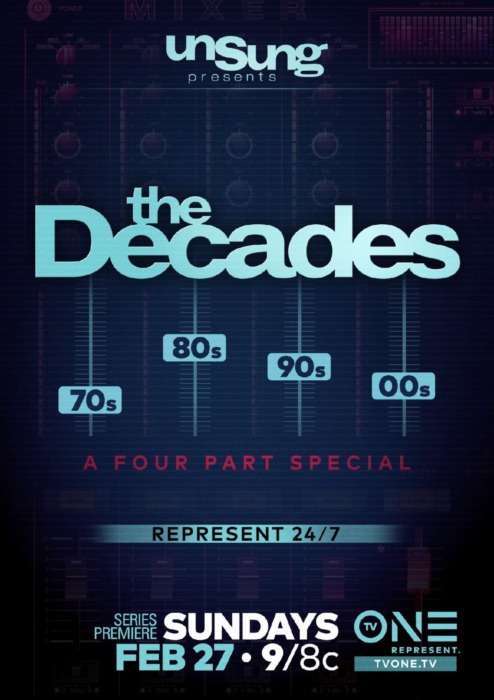 SILVER SPRING, MD (February 24, 2022) – TV One announced the premiere date of its four-part documentary special UNSUNG PRESENTS: THE DECADES, an examination of the music and social consciousness of the 1970s, 1980s, 1990s and 2000s. Following on the success of TV One's groundbreaking 'Music and the Movement' special, these four 'Decades' episodes put a spotlight on songs that were chart hits, while also showing how they became signifiers for what was going on in the wider culture of Black America, from politics to fashion to business. UNSUNG PRESENTS: THE DECADES kicks off a night of back-to-back episodes on Sunday, February 27 starting at 9 p.m. ET/8C, beginning with the 1970s, immediately followed by the 1980s episode at 10 p.m. ET/9C.
The 'Decades' special tells the chronological story of the evolution of music, from Motown and disco in the 1970s and 1980s, to the revolutionary sound and style of Hip Hop in the 1990s and 2000s, showcasing the music and artists that provided the soundtrack of Black America. 'Decades', provides social commentary to cultural events such as the Vietnam War, the crack cocaine & AIDS epidemic, and police brutality in American society and the role music played. UNSUNG, an NAACP Image Award-winning series, is one of the network's longest-running series, highlighting and exploring the careers and personal lives of some of the most talented, versatile and influential Black musical artists. 'Decades' spotlights Edwin Starr, The Floaters, Brick, Carl Carlton, Dazz Band, Jermaine Stewart, Rockwell, Teddy Riley, Public Enemy, All 4 One, Az Yet, Lisa Fischer, Jade, Digital Underground, Tweet and Keak Da Sneak.
Airdates of TV One's upcoming new episodes of UNSUNG PRESENTS: The DECADES are detailed below:
1970s and 1980s premieres Sunday, February 27
1990s premieres Sunday, April 17
2000s premieres Sunday, April 24
A tapestry of history and song from a fresh perspective, 'Decades' displays both the trials and triumphs of the times, and how music influenced the Black experience. For more information on UNSUNG visit TV One's YouTube Channel and check out exclusive, behind-the-scenes content on http://www.tvone.tv.

UNSUNG PRESENTS: THE DECADES is narrated by actor Gary Anthony Williams and is executive produced by Arthur Smith and Frank Sinton of A. Smith & Co. Productions. Mark Rowland also serves as Executive Producer along with Co-Executive Producers Kysha Mounia and P. Frank Williams. For TV One, Jason Ryan is Executive Producer in Charge of Production, and Donyell Kennedy-McCullough is Senior Director of Talent & Casting.