(Los Angeles, California – September 18, 2013) In an ideal world, young girls of color would be showered with infinite messages of self-love and self-acceptance reflective of their inherent and immeasurable worth. They would be inundated with a plethora of affirming role models urging them to reach for the stars just within their grasp. Yet in 2012, there remains a dearth of these aforementioned messages and role models essential to the well-being and self esteem of young girls of color in the United States. In one fell swoop Betty K. Bynum – an accomplished journalist, screenwriter, and actress (ER, Law & Order, Death At A Funeral), brazenly steps in to fill the void with her multifaceted The I'm A Girl Collection. Promulgating positive images and mantras to young girls of color ages 2-9, the collection finds its genesis in a series of 12 children's books authored by Bynum and illustrated by prolific English illustrator/animator Claire Armstrong Parod (Space Jams, Curious George) – beginning with the inaugural title I'm A Pretty Little Black Girl!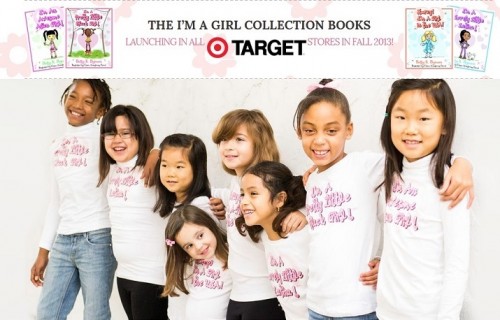 Filled with radiant colors, captivating characters, and age-appropriate affirmations woven into unique story lines, The I'm A Girl book series has received praise from the likes of esteemed Hollywood elite Debbie Allen, Chris Rock, Loretta Devine, Hill Harper, John Singleton, Antwone Fisher and legendary Academy-award winning actress Ruby Dee. The series itself was inspired by a confluence of events – including the introduction of President Barack Obama's daughters Sasha and Malia into American public life. After a visit to a local bookstore's children's section, Bynum was further inspired to push forward with her undertaking.
"When I looked at the section of books for children of color, I didn't know whether to laugh or cry. Our girls have a beautiful abundance of colors, but they don't get celebrated as they should. The I'm A Girl Collection really does fill the void for girls of color that have not been included in the big picture," says Bynum.
The I'm A Girl book series represents an ethnic inclusiveness amongst young girls of color in many ways unparalleled in any other children's series. I'm A Pretty Little Black Girl! seeks to engender a positive self-image amongst young black girls – a sentiment largely absent in the children's book market. I'm A Pretty Little Black Girl! follows the main character Mia on her wondrous journey from waking up dismayed at seeing her disheveled hair to her marvel of an epiphany of self acceptance and self love.
Bynum has secured an exclusive deal with retail monolith Target. Subsequent titles in the series include I'm A Lovely Little Latina! (2013) Hooray! I'm A Girl In The USA! (2014) and I'm An Awesome Asian Girl!(2015)
Bynum has also expanded The I'm A Girl Collection to include a line of dolls celebrating an array of hues and hair textures which will arrive in stores in time for Christmas season 2013. Esteemed doll manufacturer Madame Alexander has signed on to exclusively fabricate the series of 18" vinyl dolls designed by illustrator Lawrence Christmas (Jim Henson, Nickelodeon).
"I carry the love of our girls and our women in my heart so deeply. There is no book on the market that celebrates little black girls in the way they should be celebrated and honored. The bottom line is that it serves our girls in a way that they've long been ignored."
Source:  Press Release