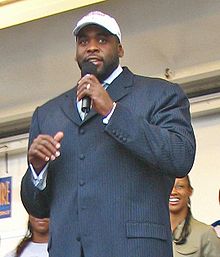 In 2001, at just 31 years old, Kwame Kilpatrick was the youngest candidate ever to be elected mayor of Detroit.  From the get go many of his decisions were considered unpopular, including the closing of the zoo and aquarium in order to balance a budget deficit.  Despite a rocky first term, and a less than stellar re-election campaign, Kilpatrick returned to his post for a second term in 2005.  With the city continuing to slide into economic crisis he blamed the media for the mess.
But secretly it was alleged that Kilpatrick was using his authority over the Detroit Water and Sewer board to get kickbacks after providing more than $80 million in lucrative contracts to his cronies.
On March 11, 2013, he and his longtime contractor friend Bobby Ferguson were convicted of racketeering and extortion following a lengthy corruption investigation.  Kilpatrick was convicted on 24 of 30 counts, including five counts of extortion, racketeering, bribery and several mail, wire and tax fraud charges.  Ferguson was found guilty on nine of 11 counts.  Kilpatrick's father, Bernard Kilpatrick, was convicted on a tax charge.
Next Monday's episode of  TV One's Celebrity Crime Files, October 21 at 9pm ET / 8pm CT, is a very timely analysis in light of Kwame Kilpatrick's sentencing today by U.S. District Judge Nancy Edmunds seven months after his historic conviction for public corruption.  Kilpatrick ran what the government called "a money-making racket out of City Hall that steered millions to himself, his family and his friends while the impoverished city hobbled along."