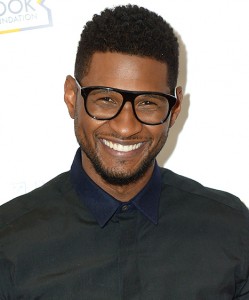 (Press Release) New York, NY, May 15, 2013: The American Society of Composers, Authors and Publishers (ASCAP) will honor eight-time Grammy Award-winner Usher with the prestigiousASCAP Golden Note Award during its 26th annual Rhythm & Soul Music Awards. The invitation-only event will take place on Thursday, June 27th, 2013 at the Beverly Hilton Hotel in Los Angeles, California.
ASCAP's Golden Note Award is presented to songwriters, composers and artists who have achieved extraordinary career milestones. Previous honorees include Sean "Diddy" Combs, Jermaine Dupri, Jimmy Jam & Terry Lewis, Jay-Z, Quincy Jones, Alicia Keys, LL Cool J, Lionel Richie, Pharrell Williams and Stevie Wonder,.
"I take the art of songwriting and music-making very seriously, so to be given the ASCAP Golden Note Award from an organization of my fellow music creators is a huge honor," said Usher. "I've been blessed to have such a wonderful career, working with some of the most talented people in the business, and I am just getting started!"
ASCAP President and Chairman Paul Williams commented: "Usher's musical evolution over the years clearly proves his versatility and longevity as an artist, performer and songwriter. The world has moved to his music for nearly two decades. Happily for the rest of us, from the sound of his latest work, it's clear that the beat will go on and on. Usher is the perfect candidate to receive one of our top honors – the ASCAP Golden Note Award."
"We at ASCAP have been a fan and advocate for Usher since day one. He's a tried and true music trailblazer who's constantly pushing boundaries and redefining genres," commented ASCAP VP of Rhythm & Soul Membership Nicole George-Middleton.
Usher (full name Usher Raymond IV) first rose to fame in the late 1990s with the release of his second album My Way, which spawned his first Billboard Hot 100 #1 hit, "Nice & Slow." The album, which has since been certified 6-times platinum by the RIAA, displayed Usher's talent for songwriting by co-writing six of the nine songs. His third studio album, 8701 (2001), quickly reached multi-platinum status and went on to sell over four million copies, bringing Usher his first Grammy win in 2001 for Best Male R&B Vocal Performance; a category in which he repeated a win in 2002 for "U Don't Have to Call." His next album Confessions (2004) took the music world by storm and is Usher's most successful album to date, making him the first artist to top the charts with four consecutive number one songs ("Yeah," "Confessions, Pt. 2," "Burn," and "My Boo"). His most recent albums – Here I Stand, Raymond v. Raymondand Looking 4 Myself – introduced the world to several massive hits, including "Love In This Club," "DJ Got Us Fallin' In Love" and "Scream." The RIAA ranks Usher as one of the best-selling artists in American music history, having sold over 23 million copies in the United States alone. To date, he has sold over 50 million records worldwide, making him one of the best selling music artists of all time.
The 26th annual ASCAP Rhythm & Soul Music Awards will also honor the songwriters and publishers of the most performed ASCAP songs on the 2012 R&B/hip-hop, rap and gospel charts. Top awards will be given to the Songwriter of the Year, Publisher of the Year, Top R&B/Hip-Hop Song, Top Rap Song and Top Gospel Song. The evening will also feature performances by several award-winning songwriters/performers.
About ASCAP
The American Society of Composers, Authors and Publishers (ASCAP) is a professional membership organization of songwriters, composers and music publishers of every kind of music. ASCAP's mission is to license and promote the music of its members and foreign affiliates, obtain fair compensation for the public performance of their works and to distribute the royalties that it collects based upon those performances. ASCAP members write the world's best-loved music and ASCAP has pioneered the efficient licensing of that music to hundreds of thousands of enterprises who use it to add value to their business – from bars, restaurants and retail, to radio, TV and cable, to Internet, mobile services and more. The ASCAP license offers an efficient solution for businesses to legally perform ASCAP music while respecting the right of songwriters and composers to be paid fairly. With over 460,000 members representing more than 8.5 million copyrighted works, ASCAP is the worldwide leader in performance royalties, service and advocacy for songwriters and composers, and the only American performing rights organization (PRO) owned and governed by its writer and publisher members. www.ascap.com