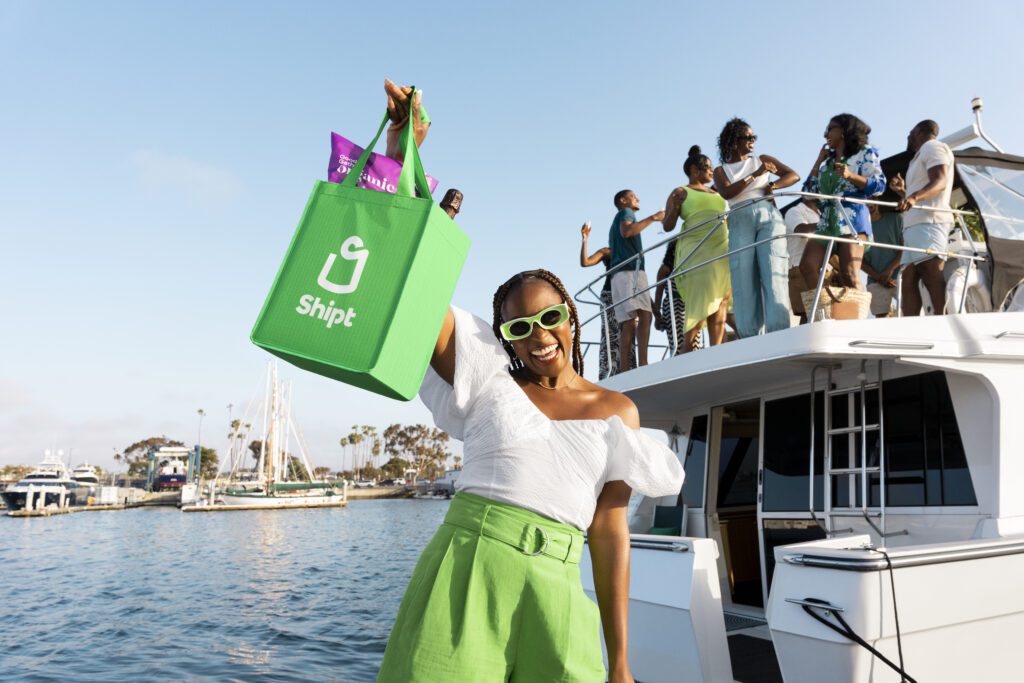 Birmingham, AL, June 20, 2023 – Debuting their partnership, Shipt, the retail technology company that connects consumers to delivery with a personal touch, is joining forces with entrepreneur, actress and producer, Issa Rae, in an engaging, multifaceted advertising campaign that showcases all the ways Shipt brings Delight in Every Delivery™. The commercial marks the initial touchpoint of Shipt's collaboration with Rae, laying the foundation for a comprehensive partnership, spanning from summer through back-to-college season and into the holidays.
"My schedule is hectic between managing my business ventures and personal life, so it's important for me to use my time wisely," said Issa Rae. "That's why I'm excited to partner with Shipt, a company that allows me to maximize my time in the best way possible. Whether planning for a party or just stocking up on the weekly essentials, I know I can count on Shipt to assist me with the task."
Issa Rae takes center stage in Shipt's latest campaign and largest advertising investment to date, seamlessly integrating same-day delivery into every dimension of her vibrant lifestyle. From the bustling pace of movie sets to hosting intimate gatherings at home and indulging in lively yacht celebrations, Rae embraces Shipt as a reliable resource for every situation. Rae's closest friends join her in the campaign to showcase how she uses Shipt as part of her daily life, highlighting the convenience and unrivaled personalized shopping experiences.
Rae's video ad spot, directed by Lawrence Lamont, will run across online video, connected TV and social media platforms. The content went live today across all platforms, and can be viewed here. 
The hilarious commercial can be found here.
"We are delighted to join forces with Issa Rae, a visionary artist with a dynamic personality," exclaims Alia Kemet, Chief Marketing Officer at Shipt. "Much like our customers, Issa seamlessly transitions between multiple roles, underscoring her appreciation for a swift, convenient, and tailored shopping experience. We admire Issa's unwavering work ethic and her dedication to loved ones, and hope our customers can see themselves through her story. We look forward to sharing more meaningful work from this collaboration in the months ahead!"
As a part of their work together over the coming months, Rae has curated a list of her go-to summertime essentials available via Shipt to elevate both the big and small moments in customers' lives throughout the season. Issa's summertime essentials include:
Favorite Day Cookies & Cream Ice Cream Sandwiches
Apple AirPods Pro
The Lip Bar Highlighting Blush
Black Girl Sunscreen Broad Spectrum – SPF 30
Moleskin Lined Composition Hardcover Journal
Customers can shop for Issa's summertime essentials with ease at shipt.com/summeressentials.
For more details and to download the Shipt app, visit www.shipt.com/hi and follow @shipt on Instagram, TikTok and Facebook. New customers can sign up and learn about availability in their area by visiting Shipt.com or by downloading the Shipt app.
About Shipt
Shipt is a retail tech company that connects people to reliable, high-quality delivery with a personal touch. Through the power of technology, Shipt connects customers to the things they want from the stores they love, workers to new earning opportunities, and retail businesses to more satisfied customers. Headquartered in Birmingham, Alabama, Shipt brings people the flexible solutions they need with the above-and-beyond service they expect. Shipt is an independently operated subsidiary of Target Corp. and available in more than 5,000 U.S. cities. For more information, please visit Shipt's Newsroom.