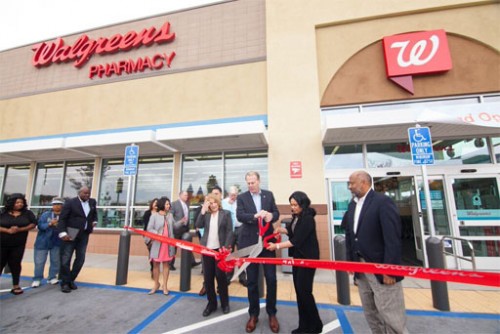 (San Diego, CA) This past Saturday, residents of southeastern San Diego's Diamond Neighborhoods, City of San Diego Mayor Kevin Faulconer, District 4 Councilmember Myrtle Cole and other community leaders joined officials from the Jacobs Center for Neighborhood Innovation at a ribbon-cutting ceremony to celebrate the long awaited grand opening of Walgreens near Market Street and Euclid Avenue – a milestone in revitalization of this community.
The opening of this Walgreens is significant because this is the first time the more than 88,000 residents of the Diamond Neighborhoods have had convenient access to a pharmacy in their
neighborhood. Previously residents had to travel to Lemon Grove, National City or Downtown to get the essential goods and services provided by a drug store.
Prior to its opening, the Jacobs Center partnered with Walgreens and South Metro Career Center to host interview workshops and hiring fairs. Of the 15 permanent positions Walgreens was hiring for nearly all were filled by residents of the Diamond Neighborhoods.
"Walgreens is evidence of our redevelopment progress and what can be achieved when we work together with the residents of this community. We know residents are ready to support Walgreens and other developments of this nature. Today we celebrate the grand opening of Walgreens, but we are also here to let San Diego know that the Diamond Neighborhoods are open for business!" said Reginald Jones, president and CEO of the Jacobs Center.
Bringing Walgreens to the area is part of the Jacobs Center's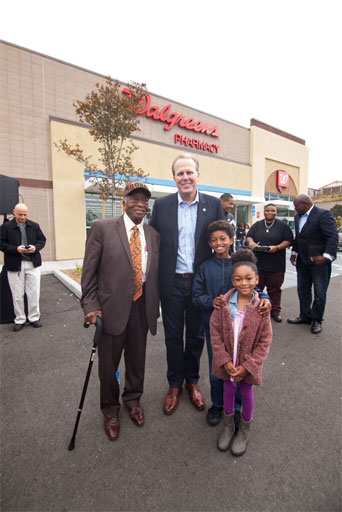 master redevelopment plan to revitalize and encourage investment along the Market Street and Euclid Avenue corridors. The Jacobs Center plans to develop the remaining 50 acres they own in the area over the next 15 years and provide more options for housing, dining, and entertainment. Two more of the Jacobs Center's redevelopment projects will break ground before the end of this year.
Source:  Click here to learn more about Jacobs Center for Innovation.