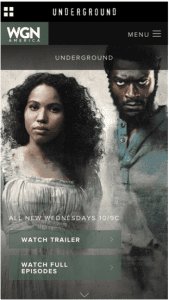 Fans of WGN America's hit series "Underground,"on Wednesday nights, can now enjoy a new, dedicated custom mobile app — Underground WGN — available for free download on iPhone, iPad and on Android phones.
The mobile app features all things "Underground," including exclusive behind-the-scenes videos, information and regularly updated content that subscribers can download, integrate and share across their Twitter, Facebook and Instagram profiles. Fans can also tap into the "Underground" website, where users can view episodes through their cable provider login and find out where the record-breaking series airs in their area through the app's WGN America Channel Finder.
"The response to 'Underground,' from the favorable reviews, social media frenzy and the strong ratings, has been absolutely amazing. And now passionate fans of the show have a one stop shop where they can get the content they love at any time, all in one place," said Brian Dollenmayer, executive vice president, marketing and promotions, WGN America.
The "Underground" app is available now on the iPhone/iPad and Android devices.
Here's recap of last night's episode, "Troubled Water," the Macon 7 runaways Noah, Rosalee, Cato, Moses and Boo are hungry, frustrated and low on energy as their journey since escaping the Macon Plantation continues. Anger toward each other flares as they argue about the best routes to get them to the North and they realize staying together is more difficult than they initially thought. As August Pullman and Ben continue tracking the Macon 7, a simple miscalculation and timely news forces them to a new course of action. Meanwhile, John and Elizabeth Hawkes ease into their new secret life as Underground Railroad activists, but Marshall Kyle Risdin remains skeptical of their actions and he sets out to test John's loyalties. On the Macon plantation, Tom continues his campaign to impress Reverend Willowset in hopes of securing his support for his senate candidacy, but he is distracted by suspicious activity between Tom and Ernestine.
"Underground" airs Wednesdays at 10 p.m. ET/PT on WGN America.