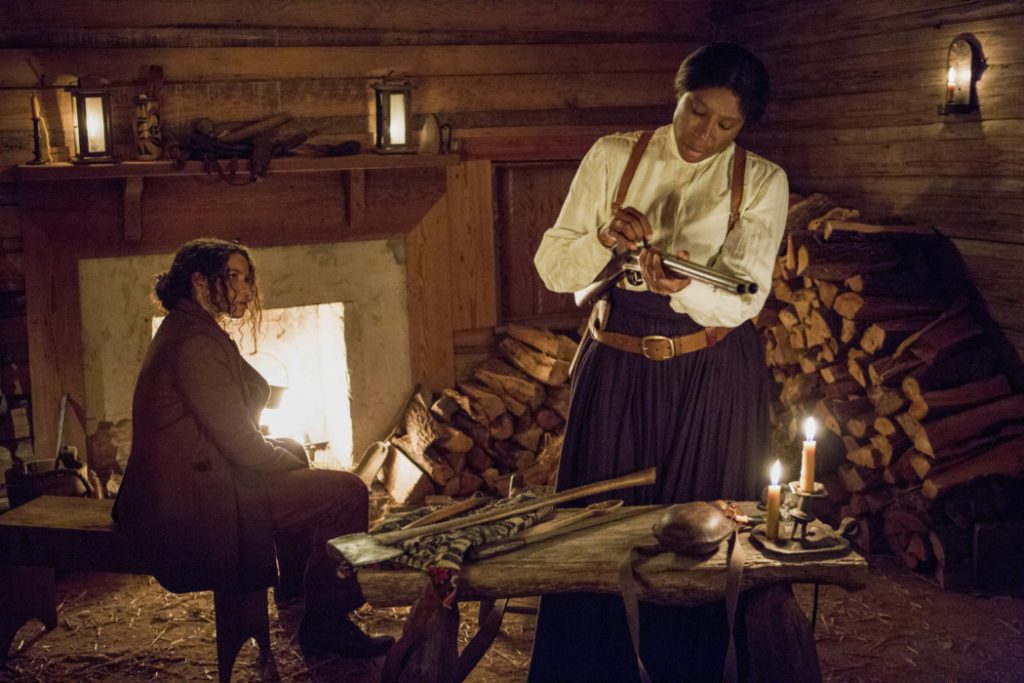 In a statement from Peter Kern, President and CEO, Tribune Media Company, said, "As WGN America evolves and broadens the scope and scale of its portfolio of series, we recently announced that resources will be reallocated to a new strategy to increase our relevance within the rapidly changing television landscape.  This move is designed to deliver additional value for our advertising and distribution partners and offer viewers more original content across our air.  Despite 'Underground' being a terrific and important series, it no longer fits with our new direction and we have reached the difficult decision not to renew it for a third season.  We are tremendously proud of this landmark series that captured the zeitgeist and made an impact on television in a way never before seen on the medium.  We thank the incomparable creators Misha Green and Joe Pokaski and the great John Legend, along with the talented creative team and cast who brought the unsung American heroes of the Underground Railroad to life.  We are grateful to the loyal fans of 'Underground' and our partners at Sony Pictures Television.  It is our hope that this remarkable show finds another home and continues its stories of courage, determination and freedom."
Background on "Underground"
The award-winning original series "Underground" was honored with a number of recognitions, including four NAACP Image Awards nominations for Outstanding Drama Series, Outstanding Actress in a Drama Series (Jurnee Smollett-Bell), Outstanding Supporting Actress in a Drama Series (Amirah Vann) and Outstanding Directing in a Dramatic Series (Anthony Hemingway).  The series was also nominated for a TCA Award for Outstanding New Program and won three CableFax Awards, including Best New Program, Best Historical Show/Series and Best Showrunners, Misha Green and Joe Pokaski.  Additionally, the African American Film Critics Association named "Underground" as Best TV Show (Cable/New Media) and the second highest show overall for 2016, and honored Director Anthony Hemingway with their 2017 Horizon Award. 
"Underground" was also honored with Broadcasting & Cable and Multichannel News' Diversity in Television & Video Award for the cast and creative team's contributions to the celebration of diversity and inclusion on television; won several awards at the inaugural Cynopsis TV Awards including Best New Drama Series, Best Series Writing (Drama) and Best Showrunner; and was nominated for a 43rd Annual Saturn Award for Best Action/Thriller Television Series.
"Underground" was the inaugural public program presented at the Smithsonian's new National Museum of African American History and Culture in Washington, DC and sparked a nationwide conversation about the importance and meaning of freedom, and interest in learning more about the Underground Railroad.  The compelling drama has been showcased at the White House, National Underground Railroad Freedom Center, National Civil Rights Museum, DuSable Museum of African American History and the Schomburg Center for Research in Black Culture, among other esteemed institutions.
The lauded series about the American heroes of the Underground Railroad was celebrated with showcases at the  Sundance Film Festival for two consecutive years, aTVfest, New York Comic-Con, Savannah Film Festival, Essence Festival, New York Television Festival, Pan African Film Festival, The Blackhouse Foundation, Tina Brown's Women in the World, the NAACP National Convention; and Historically Black Colleges and Universities across the nation, including Howard  University, Clark Atlanta University, Florida A&M, Tuskegee University, Jackson State University, and more.
"Underground" season one premiered among the top 20 cable dramas this past broadcast TV season, was the #1 most discussed cable drama on social media each night it aired and made history as WGN America's highest-rated original series.   In its second season, "Underground" boosted WGN America to a record-setting, best primetime month in history in March, and the series made its mark on social media again, trending nationally and worldwide on Twitter on Wednesday nights, in addition to scoring a 100% Rotten Tomatoes rating for its second season premiere.
Most recently, the series broke new ground in television with the extended episode entitled "Minty," written by series co-creators Misha Green and Joe Pokaski, and directed by Emmy and Golden Globe Award® winner Anthony Hemingway.  In it, Aisha Hinds, as Harriet Tubman, delivers a monumental and definitive speech about her life, her divine purpose and the perilous but necessary fight for freedom.  Set in 1858 against the backdrop of a nation deeply divided by race, class and gender, Tubman makes a passionate plea to abolitionists to shift their thinking as she challenges them to take swift action against those who are determined to oppress others.  Hinds' performance in this landmark episode has been lauded by critics and fans of the series across the country. 
"Underground" tells the story of revolutionaries of the Underground Railroad who use their ingenuity, power and perseverance to attempt the greatest escape in history despite the dire consequences that awaited them on the other side.  Set in a desperate and dangerous time, the provocative and compelling series focuses on a group of courageous men and women who band together for the fight of their lives—for their families, their future and their freedom.  The second season of WGN America's 10-episode Underground Railroad thriller continues the characters' unremitting struggle for freedom within a divided America on the brink of civil war, each side vying to enact their own justice.  
The celebrated cast includes: Jurnee Smollett-Bell as Rosalee ("Friday Night Lights," The Great Debaters), Aldis Hodge as Noah (Straight Outta Compton, Hidden Figures),Jessica de Gouw as Elizabeth Hawkes ("Arrow," "Dracula"), Alano Miller as Cato (Loving, "Atlanta"), Christopher Meloni as August Pullman ("Law & Order: Special Victims Unit," Sin City: A Dame to Kill For), Amirah Vann as Ernestine ("Girls," And So It Goes) and Marc Blucas as John Hawkes ("Blue Bloods").  Season two newcomers includeAisha Hinds ("Under the Dome," Star Trek Into Darkness) in the pioneering role of Harriet Tubman, as well as Jasika Nicole as Georgia ("Fringe," "Scandal"), DeWanda Wise as Clara ("Shots Fired"), Bokeem Woodbine as Daniel ("Fargo"), Michael Trotter as Biographer ("Rosewood"), Jesse Luken as Smoke ("Justified," 42) Sadie Stratton as Patty Cannon ("Code Black," "Boy Meets World"), Robert Christopher Riley as Hicks ("Hit the Floor") and and Academy Award® and Golden Globe® winner and ten-time Grammy Award® winning singer-songwriter John Legend as renowned abolitionist Frederick Douglass.
From Sony Pictures Television, "Underground" is created and written by Misha Green ("Sons of Anarchy," "Heroes") and Joe Pokaski ("Heroes," "Daredevil"), who serve as Executive Producers alongside Emmy-winning director Anthony Hemingway ("The People v. O.J. Simpson," "Treme"); Academy Award-winning writer Akiva Goldsman (A Beautiful Mind, I Am Legend) of Weed Road Pictures; Tory Tunnell (King Arthur, Holy Rollers) and Joby Harold (King Arthur, Edge of Tomorrow) of Safehouse Pictures; John Legend, Mike Jackson and Ty Stiklorius of Get Lifted Film Co (La Land, Southside with You); and Mark Taylor ("MadTV").