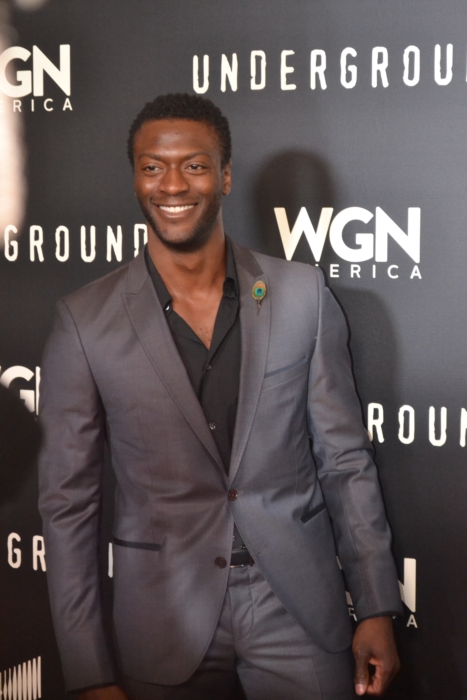 Aldis Hodge, the actor who we watched play high school quarterback Ray "Voodoo" Tatum, the displaced Hurricane Katrina victim on the Emmy-Award winning T.V. series "Friday Night Lights" is on a roll these days. Recently, he played Janelle Monáe's husband Levi in the Oscar-nominated film "Hidden Figures," and before that, he played rapper MC Ren, on the critically acclaimed"Straight Outta Compton."
Currently Hodge stars as lead character Noah, on WGN's "Underground," which season 2 premieres Wednesday night at 10:00 p.m.
Ironically, the series premieres two days after Dr. Ben Carson, our new Housing and Urban Development Secretary characterized the Africans stolen from their homes and families as immigrants. Let's pray that Dr. Ben turns on the television for a refresher course on the history of slavery.
The series plot centers around a harrowing escape plot by runaway slaves, called The Macon 7 with Noah, a blacksmith as the group's leader, and his love interest Rosalee (Jurnee Smollett-Bell), a house slave whose mother Ernestine (Amirah Vann) remains on the plantation to serve its owner Tom Macon (Reed Diamond). It's a heart thumping, powerful story of defiance and resistance.
When Hodge is not acting in film or on hit television shows, he spends time painting and, he designs watches for his own company, Basil Time Piece  In an interview with Forbes, Hodge, a self-taught watchmaker, says that he's  has spent more than a decade training himself to build movements, to learn more about design and the feasibility of creating certain products. "With watchmaking, I could learn at my own pace," says Hodge. " The first five years or so, I focused on design and aesthetics, but in the past five years, I have become a self-taught horologist."
Check out more on Hodge the watch maker on Forbes.
Who knows, if that whole acting thing falls through, which we highly doubt, he has his watch designs to fall back on.  Only time will tell.